Michigan Basin Geological Society
​
​
Please join us for the first Michigan Basin Geological Society's membership meeting for the 2019-2020 year.
​
MBGS Membership Meeting, Wednesday April 8th, 2020, 7:00 PM
​
LOCATION: Zoom Meeting (See details below)
​
SPEAKER: Dr. Katherine McCarville, Ph.D., Professor of Geosciences, Delano Professor of Science, Upper Iowa University
​
TOPIC: "Grand Canyon Geology: A View From the River"
For the indigenous peoples of the Southwest deserts of North America, who have inhabited the area for more than 11,000 years, the Colorado River was the source of all life. The Grand Canyon and surrounding region was their home, supplying sustenance and a cultural foundation. In 1540, Coronado's conquistadors were the earliest Europeans to become aware of the canyon, as they peered from the rim into the rugged landscape carved by the Colorado River. The story continues into the present, with modern attempts to exploit resources and control the river at odds with simultaneous efforts to preserve wilderness, ecosystems, and recreational opportunities.
Scientific explorations of the canyon began with John Wesley Powell's pioneering Colorado River expeditions beginning in 1869. In the 150 years since, the phenomenal exposures and the staggering span of geologic time represented in the rocks exposed in the canyon walls have drawn attention and study from many geologists. The history of Earth recorded in the rocks, as viewed from the river from Lee's Ferry to Whitmore Wash, reaches far back into the Precambrian, encompassing fossils of some of the earliest carnivores. The end-Precambrian Great Unconformity is a prominent feature, exposed over many river miles, giving plenty of opportunity to consider the changes leading up to the Cambrian Period and the beginning of the Paleozoic era. The succession of Paleozoic rocks and fossils reveals a history of profound environmental change. The Laramide uplift of the Colorado Plateau, a dynamic story of antecedent rivers and erosion, and Cenozoic history of volcanism and downcutting of the river gorge ultimately lead to the canyon as it appears today.
​
Biography:
​
Dr. Katherine McCarville, Ph.D., Professor of Geosciences, Delano Professor of Science
Upper Iowa University, P.O. Box 1857, Fayette IA 52142
563-425-5233 mccarvillek@uiu.edu
Katherine McCarville (Kata) has roots in the Midwest but grew up in California. She studied geology at UCLA as an undergraduate, and worked as a uranium miner in Wyoming after graduation. She took a masters degree in geology Colorado School of Mines, working on uranium deposits in the Red Desert basin of Wyoming, and then worked for a number of years in computing and networking at universities and for engineering consulting firms. As a Bush Foundation Leadership Fellow, she did her doctoral work in avian paleontology of Fossil Lake, Oregon, at the South Dakota School of Mines. Her work resulted in an innovative interpretation for the locality, as a volcanic maar.
Kata got started with Grand Canyon geology while working with John Warme, Professor of Geology at Colorado School of Mines, on a number of projects including editing deep-sea drilling research volumes and guidebooks for geology study trips to North Africa. She has led or co-led numerous Grand Canyon geology rafting trips, and organized and led many other geology field trips. Born at the confluence of the Missouri and Mississippi Rivers, she is a river rat. She's spent time on and along the Colorado, Green, Platte, Snake, Mississippi, and many of Iowa's rivers.
Kata is a member of the faculty at Upper Iowa University in Fayette, Iowa, where she coordinates the Environmental Science degree program, which now includes emphases in Ecosystems, Geosciences, Sustainability, and Regenerative Agriculture. She teaches a wide variety of courses in geosciences and geography, and chairs the Department of GeMS—Geosciences, Geography, and Mathematical Sciences. Her interests span the earth and environmental sciences and often cross disciplinary boundaries. Her current research centers on the origins of the Iowan Erosion Surface, soil biota, and the role of disturbance in prairie ecosystems. She enjoys mentoring students, and has supervised student projects in trumpeter swan restoration, wildland fire education, fish species in Grand Canyon, squirrel nest-tree selection preference, assessment of a local shooting range for lead contamination, and GIS-based studies of the distribution of algific talus slopes that serve as refugia for Pleistocene species, among others.
An advocate for diversity in STEM, Kata serves as UIU Campus Director for the Louis Stokes Alliance for Minority Participation in STEM disciplines, and as Co-Principal Investigator on an NSF-funded project called STEM-Pros: Growing More STEM Professionals in the Heartland.
​
Join Zoom Meeting:
https://uiu.zoom.us/j/357968963?pwd=ek5WbnJ6TGEvUlhaZVJBTWZqTzRqdz09
Meeting ID: 357 968 963
Password: 022734
Phone Audio 301 715 8592

New Survey Publication – An Updated Bibliography of Michigan Geology
​
John Yellich and Peter Voice, Western Michigan University Department of Geological Sciences and Michigan Geological Survey

The Michigan Geological Survey is proud to announce a new publication: Michigan Geology: A Bibliography, the second volume in the Michigan Geological Survey Data Compilation Series. This updated compilation lists over 7,700 references from all known Michigan sources, including industry, professional associations and universities and includes publications from 1818 to present. This report documents 200 years of Geological Research in Michigan. The Bibliography is sorted into four general categories – Precambrian, Basin, Quaternary, and Other.
This updated version of the bibliography also includes a short section on Michigan Stratigraphic Nomenclature, as well as brief discussion of historical trends in publication frequency in Michigan.
​
The report is free to download at the Michigan Geological Survey's webpage: https://wmich.edu/geologysurvey/research/publications.
DOUGLAS HOUGHTON MEMORIAL
Douglass Houghton, Michigan's first State Geologist, was honored on September 10, 2016 by
the placement of a State of Michigan Historical Marker commemorating his accomplishments. The
effort was led by Arlene Anderson‐Vincent, members of the Michigan Basin Geological Society,
Keweenaw County Historical Society and faculty at Western Michigan University and Michigan
Technological University. The dedication was incorporated into a MBGS field excursion led by
Professor Ted Bornhorst of Michigan Technological University and Lawrence Molloy, President of the Keweenaw County Historical Society. The two led a field excursion that covered the geology and history of sites from Houghton to Copper Harbor and wove a tale of the rise and fall of mining in the copper range. The field excursion included the dedication of the marker, which is located in Eagle River, Michigan at the Keweenaw County Historical Museum. The dedication had many speakers and a special appearance from Kyle Bagnall, who portrayed Bela Hubbard who told the story of Douglass Houghton's 1840 expedition along Lake Superior. Douglass Houghton died in 1845 when the boat carrying himself and his crew capsized during a storm on Lake Superior near Eagle River.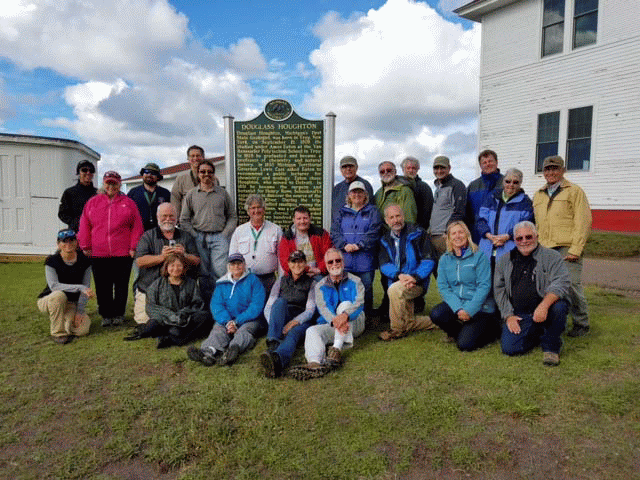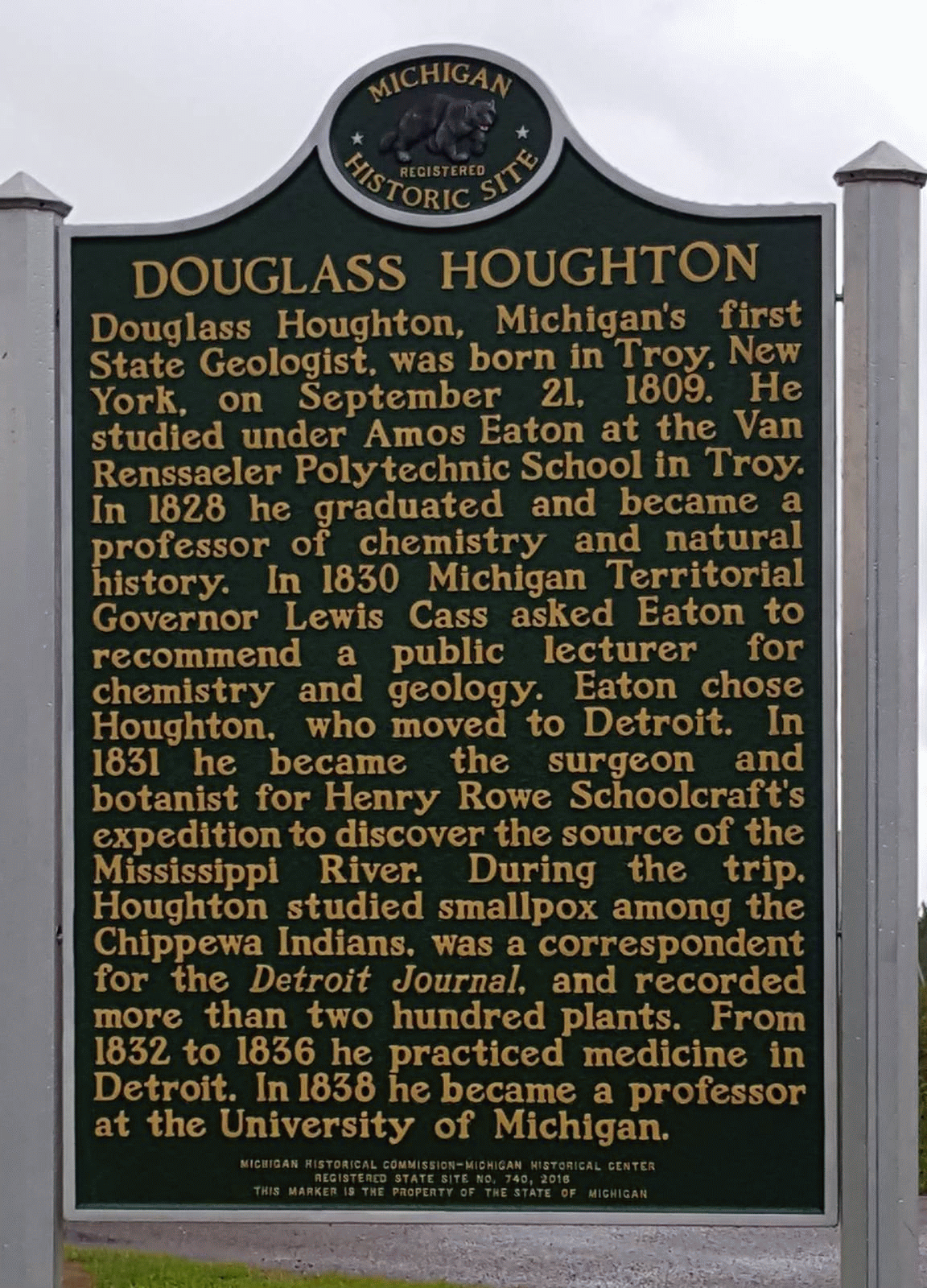 The Michigan Basin Geological Society (MBGS) was founded in 1936 as an affiliated non-profit organization of the American Association of Petroleum Geologists (AAPG) to provide a forum for the exchange of ideas relating to the field of petroleum geology through field excursions and meetings.
​
Throughout the years, the role of the society has changed, and both meetings and field excursions now address a wide range of topics pertaining to the study of geology of Michigan and the great lakes area, and is open to anyone interested in geology.
​
MBGS has monthly meetings typically on the second Wednesday of each month from September through May. These meeting consist of a lecture on a wide variety of Michigan geology related topics. The meetings are open to all. The Executive Committee Officers meet prior to the meeting to discuss Society issues and is open to anyone interested in attending. The society has 1-3 geological field trips per year.
​
MBGS members are geologists, work in a geology related field, or are a geology student or hobbyist. The Society is dedicated to the advancement of the science of geology and related fields, disseminating knowledge of geology or related fields for the benefit of its members, and promoting the education of geology in Michigan. Annual dues are $25 per person and $10 per student.
April 8th, 2020: Michigan Basin Geological Society Annual BBQ meeting. Dr. Katherine "Kata" McCarville, professor of Geology and Paleontology, Upper Iowa University, will be presenting on the Grand Canyon,
rafting the Colorado River, Lee's Ferry to Whitmore Wash". This will be a Zoom Meeting

June 16-17th, 2020: AIPG Michigan Section Environmental Risk Management Workshop (10th Year Anniversary), Roscommon, Michigan at the Ralph A. MacMullen Conference Center,

EGLE Calendar of Training and Workshops
https://www.michigan.gov/egle/0,9429,7-135-3308_3333---,00.html
​
Michigan State University, College of Natural Science, Department of Earth and Environmental Science,
Events https://ees.natsci.msu.edu/events/

Michigan Tech – Geoseminars ‐

University of Michigan Earth and Environmental Science
Events

Western Michigan University, Geological and Environmental Sciences
Events
​