Michigan Basin Geological Society
​
​
Please join us for the first Michigan Basin Geological Society's membership meeting for the 2019-2020 year.
DATE: November 13, 2019, presentation 7:00-8:00 pm
​
LOCATION: Natural Science Building, Rm 204 Michigan State University, East Lansing, Michigan
​
SPEAKER: Dr. Robb Gillespie, Assistant Professor with the Department of
Geological and Environmental Sciences, a Research Associate with the Michigan Geological Repository for Research and Education (MGRRE), and an associate of the Michigan Geological Survey, all located at Western Michigan University
TOPIC: Interactions of Late Wisconsin Saginaw and Michigan Glacial Ice-lobes in Michigan - Possible Michigan Lobe Event Defined
​
Abstract:
Traditionally, the extent of the Late Wisconsin Saginaw Lobe ice advance throughout Michigan has been delineated in the landscape by a belt of glacial moraines surrounding Saginaw Bay. However, new satellite imagery, DEMs, and LiDAR data sets have provided the basis for renewed, more detailed, analyses of previously mapped glacial landforms, drainage basins and associated river patterns. Analyses of the cross-cutting relationships of these features, combined with: (1) development of a more detailed, bedrock-topography map, and (2) sedimentary analyses of more than 320 newly collected Saginaw Moraine till samples, now makes it possible to re-interpret certain Michigan glacial events.
The hypothesis presented in this work focuses on the central portion of the Saginaw Lobe – Lake Border Moraine system (centered at Ithaca, Michigan in Gratiot County). It is postulated that the present-day, central portion of this series of moraines, rather than being produced by Saginaw Lobe ice advancing from the northeast (as traditionally interpreted), was instead produced by younger Michigan Lobe ice advancing from the west. Ice-flow directions are thought to be directly related to, and controlled by, bedrock topography. Advancing Michigan Lobe ice re-worked the central portion of the Saginaw Lobe – Lake Border Moraine system originally deposited by Saginaw Lobe ice, and re-deposited this material farther eastward, resulting in the eastward "bulge" of the central portion of the overall moraine system.
Development of stream drainage patterns also indicates westward retreat of glacial ice from this area. Current patterns are thought to have formed contemporaneously with moraine deposition. This pattern could only develop if eastward valleys were ice-free during a time when adjacent western valleys were still ice covered. Also, moraine patterns and landform features to the west of the area are consistent with landform systems-tracts formed by ice retreating west – northwest.
Recently, sediment analyses of till samples collected from the Saginaw Lobe – Lake Border Moraine system display compositions for the central portion of the moraine system that are different from those of the northern and southern portions. This implies a distinctly different genesis for this portion of the Saginaw Lobe – Lake Border Moraine system.
Therefore, it is hypothesized that the central portion of the currently defined Saginaw Lobe – Lake Border Moraine system was formed by younger Michigan Lobe ice advancing from the west, rather than by older Saginaw Lobe ice advancing from the northeast (which formed the laterally contiguous, older portions of the Saginaw Lobe – Lake Border Moraine system).
New Survey Publication – An Updated Bibliography of Michigan Geology
​
John Yellich and Peter Voice, Western Michigan University Department of Geological Sciences and Michigan Geological Survey

The Michigan Geological Survey is proud to announce a new publication: Michigan Geology: A Bibliography, the second volume in the Michigan Geological Survey Data Compilation Series. This updated compilation lists over 7,700 references from all known Michigan sources, including industry, professional associations and universities and includes publications from 1818 to present. This report documents 200 years of Geological Research in Michigan. The Bibliography is sorted into four general categories – Precambrian, Basin, Quaternary, and Other.
This updated version of the bibliography also includes a short section on Michigan Stratigraphic Nomenclature, as well as brief discussion of historical trends in publication frequency in Michigan.
​
The report is free to download at the Michigan Geological Survey's webpage: https://wmich.edu/geologysurvey/research/publications.
DOUGLAS HOUGHTON MEMORIAL
Douglass Houghton, Michigan's first State Geologist, was honored on September 10, 2016 by
the placement of a State of Michigan Historical Marker commemorating his accomplishments. The
effort was led by Arlene Anderson‐Vincent, members of the Michigan Basin Geological Society,
Keweenaw County Historical Society and faculty at Western Michigan University and Michigan
Technological University. The dedication was incorporated into a MBGS field excursion led by
Professor Ted Bornhorst of Michigan Technological University and Lawrence Molloy, President of the Keweenaw County Historical Society. The two led a field excursion that covered the geology and history of sites from Houghton to Copper Harbor and wove a tale of the rise and fall of mining in the copper range. The field excursion included the dedication of the marker, which is located in Eagle River, Michigan at the Keweenaw County Historical Museum. The dedication had many speakers and a special appearance from Kyle Bagnall, who portrayed Bela Hubbard who told the story of Douglass Houghton's 1840 expedition along Lake Superior. Douglass Houghton died in 1845 when the boat carrying himself and his crew capsized during a storm on Lake Superior near Eagle River.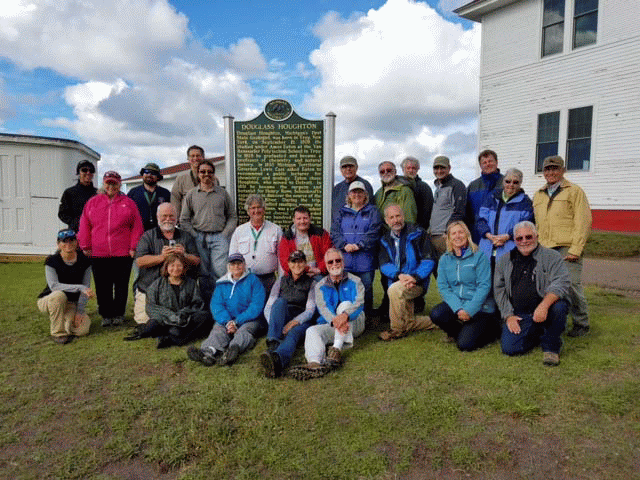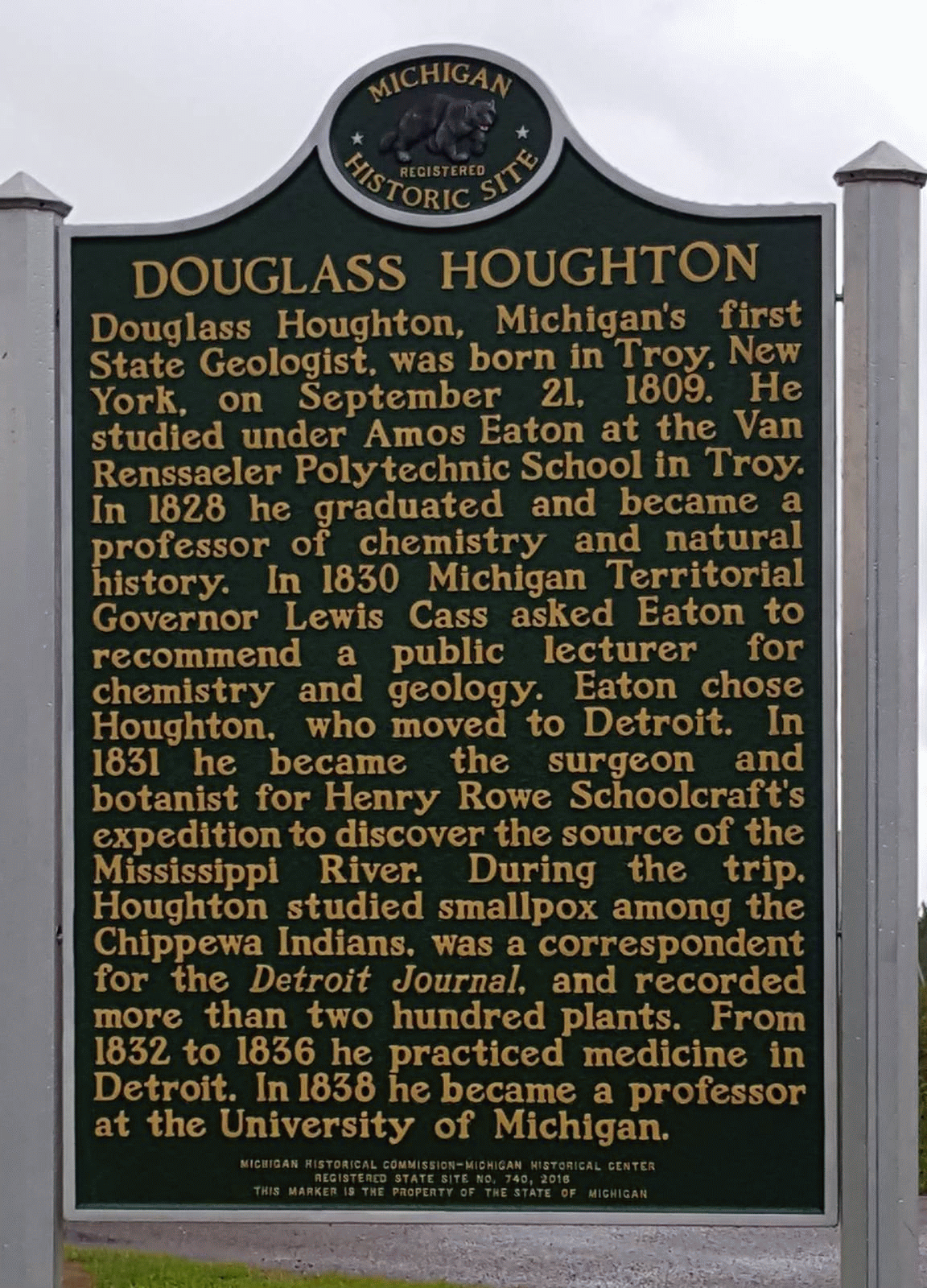 The Michigan Basin Geological Society (MBGS) was founded in 1936 as an affiliated non-profit organization of the American Association of Petroleum Geologists (AAPG) to provide a forum for the exchange of ideas relating to the field of petroleum geology through field excursions and meetings.
​
Throughout the years, the role of the society has changed, and both meetings and field excursions now address a wide range of topics pertaining to the study of geology of Michigan and the great lakes area, and is open to anyone interested in geology.
​
MBGS has monthly meetings typically on the second Wednesday of each month from September through May. These meeting consist of a lecture on a wide variety of Michigan geology related topics. The meetings are open to all. The Executive Committee Officers meet prior to the meeting to discuss Society issues and is open to anyone interested in attending. The society has 1-3 geological field trips per year.
​
MBGS members are geologists, work in a geology related field, or are a geology student or hobbyist. The Society is dedicated to the advancement of the science of geology and related fields, disseminating knowledge of geology or related fields for the benefit of its members, and promoting the education of geology in Michigan. Annual dues are $25 per person and $10 per student.
November 2-3rd, 2019: Gem and Mineral Show, Midland, Michigan,

November 11th, 2019: Michigan Mineral Society Auction, Bloomfield Hills, Michigan
​
November 13, 2019: MBGS Membership Meeting

November 20-21st, 2019: EGLE Michigan Sustainability Conference, Lansing Center, Lansing, Michigan,
https://www.michigan.gov/egle/0,9429,7-135-3308_3333-393527--,00.html

December 11th, 2019: Michigan Section AIPG Meeting, Weber's Inn, Ann Arbor, Michigan, http://mi.aipg.org/default.htm

EGLE Calendar of Training and Workshops
https://www.michigan.gov/egle/0,9429,7-135-3308_3333---,00.html
​
Michigan State University, College of Natural Science, Department of Earth and Environmental Science,
Events https://ees.natsci.msu.edu/events/

Michigan Tech – Geoseminars ‐

University of Michigan Earth and Environmental Science
Events

Western Michigan University, Geological and Environmental Sciences
Events
​