Michigan Basin Geological Society
​
​
Please join us for the first Michigan Basin Geological Society's membership meeting for the 2019-2020 year.
​
MBGS Membership "Family Night" Dinner Meeting, January 8th, 2020
Members are welcome to bring guests, as this is a family friendly event.
​
DATE: January 8th, 2020, Meeting starts at 5:30PM, dinner will be served at 5:45PM, and presentation will be after dinner. $25/plate. Cash bar will be available. Dinner included. Caesar salad, roasted sliced breast of turkey with stuffing, mashed potatoes, baked spinach lasagna, broccoli, rolls/butter, soft drink or coffee/tea. Cash bar will be available.

Who: MBGS Friends and family are welcome to attend this meeting. Feel free to bring a guest.
​
Reservations are required. RSVP to Jennifer Trout jennifer.l.trout@wmich.edu by January 6th, 2020.
​
LOCATION: Coral Gables Restaurant 2838 E Grand River Ave, East Lansing, Michigan
​
SPEAKER: Arlene Anderson-Vincent, Nestlé Waters North America
​
TOPIC: "Nestlé Water North America in Michigan – Healthy Hydration – The Nestlé Perspective"
​
Abstract:
Controversy began as early as 2000, when Nestlé Waters North America (NWNA) first started evaluating central Michigan as a location for its Ice Mountain Natural Spring Water Brand. After many scientific evaluations and studies which supported the long-term sustainability of a bottling operation in Michigan, NWNA applied for and was granted the necessary permits to allow them to open their doors in 2002.

After nearly 20 years of operations in Michigan, NWNA has invested over $300M in the State, pays over $1.3M in annual taxes and directly employs over 250 Michigan residents. NWNA invests in the communities where it operates and has built long-term relationships with local stakeholders through its commitment to the environment and local area. NWNA produces multiple bottled water products at its Stanwood, Michigan facility that are
primarily sold to customers in the Midwest.

In 2016, bottle water sales surpassed carbonated beverages as America's #1 beverage choice. With an increase in customer demand, NWNA applied to increase the permitted withdrawal capacity of one water supply well that supports it's Michigan operation. On the heels of the Flint Water Crisis, the permit request again invoked controversy but was ultimately approved.

Learn about NWNA operations in Michigan including the economics, the environmental monitoring programs, the 2016 groundwater withdrawal permit process, and Michigan groundwater withdrawal laws specific to water
bottlers.
​
Biography:
Arlene Anderson-Vincent (CPG) is the Natural Resource Manager for Nestle Waters North America (NWNA) for the Midwest region. Since 2010, Arlene has worked at the NWNA Ice Mountain bottling facility located in Stanwood, Michigan. Arlene graduated from Michigan State University with a degree in Geologic Sciences. Much of Arlene's career has been focused on water supply development and sustainability projects in Midwest region.

Arlene's primary job responsibility consists of the development and management of sustainable water supplies but also extends into bringing geologic and hydrogeologic principles to the public. This is accomplished through community outreach, engagement and media interactions. The community outreach helps remove the mystery surrounding groundwater and alleviate fears associated groundwater withdrawals.

Arlene has been active for many years in the Michigan Basin Geological Society and was on the board of directors for the Mid-Michigan Honor Flight program. She is a member of the National Groundwater Association and American Institute of Professional Geologist. In her free time, she enjoys volunteering at the local animal shelters, traveling, visiting National Parks, hiking, camping and spending time anywhere on Lake Michigan.
New Survey Publication – An Updated Bibliography of Michigan Geology
​
John Yellich and Peter Voice, Western Michigan University Department of Geological Sciences and Michigan Geological Survey

The Michigan Geological Survey is proud to announce a new publication: Michigan Geology: A Bibliography, the second volume in the Michigan Geological Survey Data Compilation Series. This updated compilation lists over 7,700 references from all known Michigan sources, including industry, professional associations and universities and includes publications from 1818 to present. This report documents 200 years of Geological Research in Michigan. The Bibliography is sorted into four general categories – Precambrian, Basin, Quaternary, and Other.
This updated version of the bibliography also includes a short section on Michigan Stratigraphic Nomenclature, as well as brief discussion of historical trends in publication frequency in Michigan.
​
The report is free to download at the Michigan Geological Survey's webpage: https://wmich.edu/geologysurvey/research/publications.
DOUGLAS HOUGHTON MEMORIAL
Douglass Houghton, Michigan's first State Geologist, was honored on September 10, 2016 by
the placement of a State of Michigan Historical Marker commemorating his accomplishments. The
effort was led by Arlene Anderson‐Vincent, members of the Michigan Basin Geological Society,
Keweenaw County Historical Society and faculty at Western Michigan University and Michigan
Technological University. The dedication was incorporated into a MBGS field excursion led by
Professor Ted Bornhorst of Michigan Technological University and Lawrence Molloy, President of the Keweenaw County Historical Society. The two led a field excursion that covered the geology and history of sites from Houghton to Copper Harbor and wove a tale of the rise and fall of mining in the copper range. The field excursion included the dedication of the marker, which is located in Eagle River, Michigan at the Keweenaw County Historical Museum. The dedication had many speakers and a special appearance from Kyle Bagnall, who portrayed Bela Hubbard who told the story of Douglass Houghton's 1840 expedition along Lake Superior. Douglass Houghton died in 1845 when the boat carrying himself and his crew capsized during a storm on Lake Superior near Eagle River.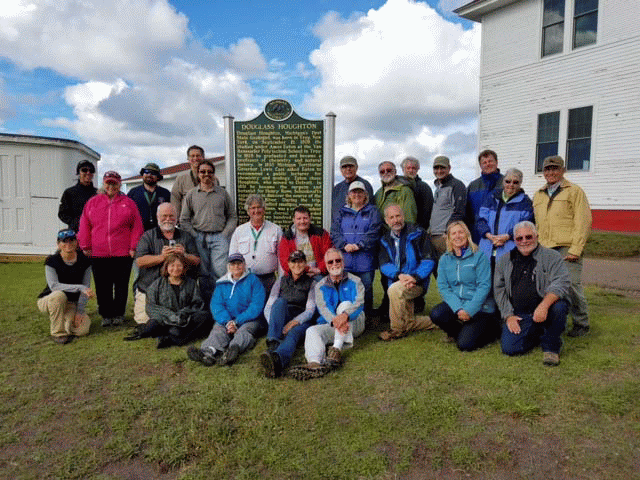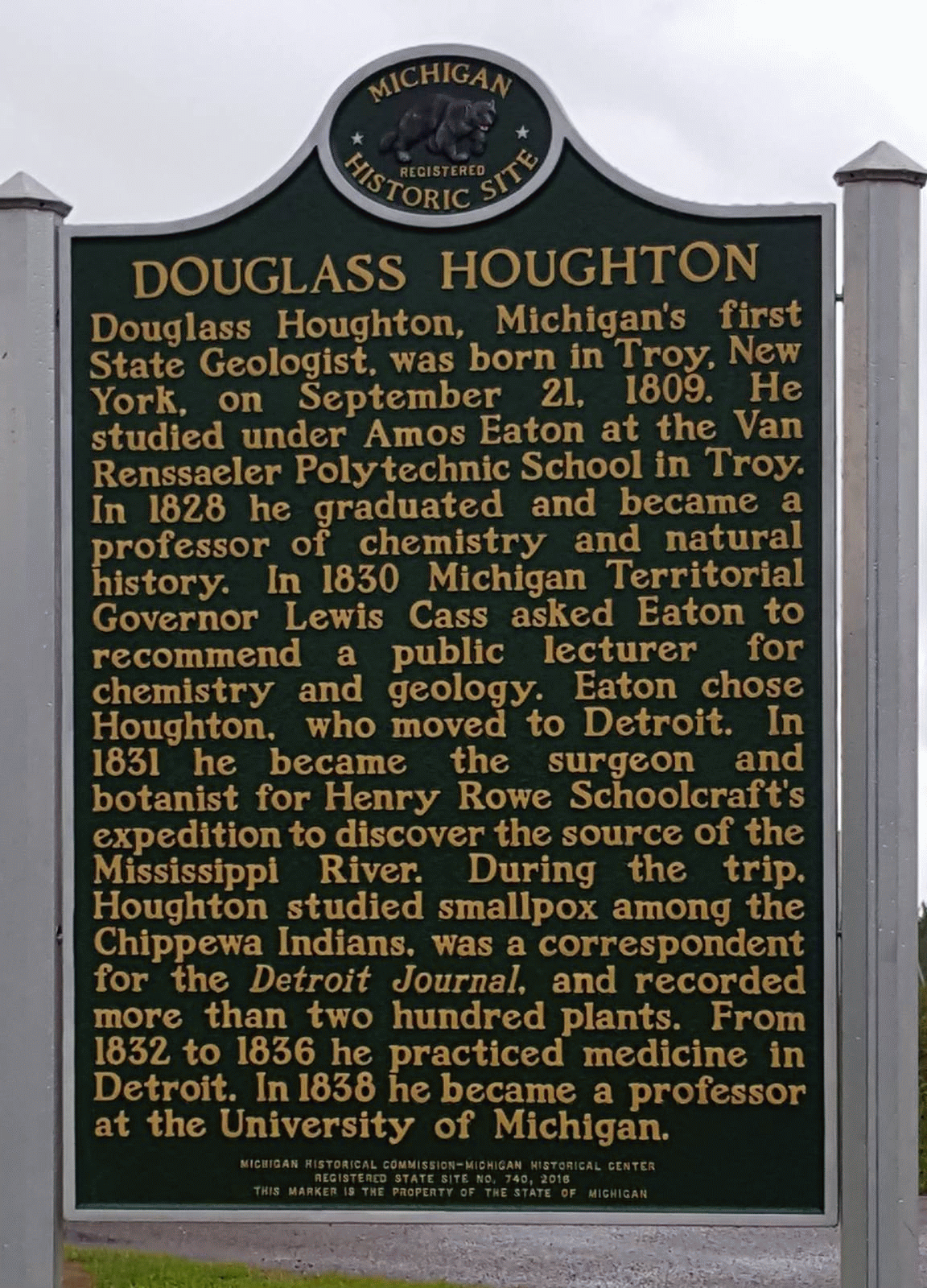 The Michigan Basin Geological Society (MBGS) was founded in 1936 as an affiliated non-profit organization of the American Association of Petroleum Geologists (AAPG) to provide a forum for the exchange of ideas relating to the field of petroleum geology through field excursions and meetings.
​
Throughout the years, the role of the society has changed, and both meetings and field excursions now address a wide range of topics pertaining to the study of geology of Michigan and the great lakes area, and is open to anyone interested in geology.
​
MBGS has monthly meetings typically on the second Wednesday of each month from September through May. These meeting consist of a lecture on a wide variety of Michigan geology related topics. The meetings are open to all. The Executive Committee Officers meet prior to the meeting to discuss Society issues and is open to anyone interested in attending. The society has 1-3 geological field trips per year.
​
MBGS members are geologists, work in a geology related field, or are a geology student or hobbyist. The Society is dedicated to the advancement of the science of geology and related fields, disseminating knowledge of geology or related fields for the benefit of its members, and promoting the education of geology in Michigan. Annual dues are $25 per person and $10 per student.
January 8th, 2020: Michigan Basin Geological Society membership meeting,

February 12th, 2020: Michigan Basin Geological Society membership meeting, Lansing,

March 12th, 2020: Michigan Basin Geological Society membership meeting, Lansing,

April 8th, 2020: Michigan Basin Geological Society membership meeting, Michigan Geological Repository for Research and Education (MGRRE) Kalamazoo,

EGLE Calendar of Training and Workshops
https://www.michigan.gov/egle/0,9429,7-135-3308_3333---,00.html
​
Michigan State University, College of Natural Science, Department of Earth and Environmental Science,
Events https://ees.natsci.msu.edu/events/

Michigan Tech – Geoseminars ‐

University of Michigan Earth and Environmental Science
Events

Western Michigan University, Geological and Environmental Sciences
Events
​