​
​
INTRODUCING THE 2021 - 2022 MBGS EXECUTIVE COMMITTEE MEMBERS
President – Jennifer Trout, Western Michigan University

Vice President – Andrea Munoz-Hernandez, Ph.D., GISP. Mich. Dept. of Environment, Great Lakes and Energy

Secretary – John Yellich, Michigan Geological Survey

Treasurer – Peter Rose Michigan Department of Natural Resources

Business Manager – Peter Rose, Michigan Department of Natural Resources

Past President – Chris Christensen, Michigan Dept. of Environment, Great Lakes and Energy
​
MBGS has monthly meetings typically on the 2nd Wednesday
of each month from September - May
MICHIGAN BASIN GEOLOGICAL SOCIETY FIELD EXCURSION
SATURDAY NOVEMBER 5, 2022
Sand and Sandstone Revisited: Lithostratigraphy of Carboniferous Sandstones in the Jackson Coal Province, Central Jackson County, Michigan, USA
​
​
ACCEPTING APPLICATIONS FOR THE 2022 MBGS E.Z. MANOS MEMORIAL SCHOLARSHIP
Michigan Basin Geological Society will award two scholarships up to $500 each to students conducting graduate or undergraduate research in geology related to Michigan. The scholarships will be awarded at an upcoming MBGS meeting and the winner(s) will be notified In December. We hope recipients can attend a spring MBGS meeting to present their research topic. Candidates should complete and submit the MBGS scholarship application form by December 20, 2022 to John A. Yellich, MBGS Secretary, at john.a.yellich@wmich.edu with subject Line: MBGS Scholarship 2022.
Applications and more information can be found on MBGS's Scholarship Page
​
MBGS MEMBERSHIP DUES
MBGS continues to strive to provide a platform for geologist and environmental professionals to connect and offer learning and field trip opportunities. For 2021-2022, our annual dues are $35. Student Membership is free. Email any one of our officers if you are a student and would like to be a member. We now offer the option to renew your professional membership via PayPal. Please refer to the renewal notices that are included in the newsletter. Student Membership is free.
​
Professional Membership Dues
MBGS continues to strive to provide a platform for geologist and environmental professionals to connect and offer learning and field trip opportunities. For 2022-2023, our annual dues will increase to $35 for members. Student memberships are free, but they
need to fill out the Student Membership Registration Form (above). Renewal notices are included in the newsletter.
OTHER NEWS: MBGS HISTORICAL PUBLICATIONS ARE NOW AVAILABLE ON USB FLASH DRIVES (8GB).

MBGS Publications ‐ There are two (2) new publications available! See details on the Publications page
​
MBGS On-line Store - Shop for shirts, hats, bags and other items. Check it out at: http://www.cafepress.com/mbgs
Please join us for the Michigan Basin Geological Society's membership meetings for the 2022-2023
​
MBGS - MBGS Family Dinner Meeting Thursday December 15th, 6:00 PM
​
​Location: Coral Gables in East Lansing 2838 Grand River Ave, East Lansing, MI 48823
​
Speaker: Dr. Michael Velbel, Michigan State University
​
Topic: Recent Meteorites Recoveries in Michigan
​
Please bring your family and join us for our December Dinner Meeting! Dr. Mike Velbel will be speaking about meteorites and we'll have raffle prizes! Cocktails begin at 5:30 PM, dinner at 6:00 and presentation at 7:00. RSVP to Jen Trout at Jennifer.L.Trout@wmich.edu. by December 12th.

$40 per person, cash bar
​
Abstract:
Returned samples of solar-system materials are of the highest scientific value because they are known to come from bodies for which other kinds of information are available to complement studies of the samples in terrestrial laboratories. However, only a few solar-system bodies other than Earth have been sampled by human or robotic missions. Lunar rocks returned by Apollo and Luna missions, comet dust returned from comet 81P/Wild 2 by NASA's Stardust mission, and mineral grains from the regoliths of asteroids 25143 Itokawa, and 162173 Ryugu, returned by the Hayabusa and Hayabusa2 missions, respectively, sample only a few specific solar-system bodies – the Moon, one comet, and two primitive (undifferentiated) asteroids. Future samples to be brought to Earth by spacecraft returning from more and more diverse solar system bodies – for example, OSIRIS-REx returning from asteroid 101955 Bennu in September 2023 – will add more to solar system science, but for many varieties of solar system bodies, meteorites will remain the best available samples for some time to come.
Meteorites are naturally delivered samples that are our only direct samples from a large a variety of parent bodies throughout the solar system. In their chemical compositions, minerals, and textures they preserve direct evidence of the processes by which our solar system's planets and small bodies originated, were modified, and evolved to their present state. The natural delivery process of meteorites involves ejection of a meteoroid from its parent body, interplanetary transit, dramatic passage through Earth's atmosphere, and usually somewhat less dramatic arrival at Earth's surface as a meteorite. Freshly fallen meteorites, recovered promptly after their witnessed fall, are referred to as 'falls.' Most meteorites available for scientific study are referred to as 'finds,' recovered after unwitnessed arrival and some exposure to the terrestrial surface environment, often over millennial or longer timescales.

At the broadest level of compositional classification, meteorites include objects that consist mainly of metal (irons), predominantly of silicate minerals (stones or stony meteorites), and subequal abundances of metal and silicates (stony irons). Michigan's meteorites are typical of meteorites recovered around the world. Irons are the most easily recognized among finds; all Michigan finds are irons. Stony meteorites are best recognized when their fall is witnessed; all Michigan stony meteorites are falls. All documented Michigan stony meteorites are ordinary chondrites, the most common variety among falls. Studies of Michigan's ordinary chondrites have contributed to scientific understanding of the formation of chondrules and the pre-atmospheric sizes of meteoroids. Future falls may provide more opportunities for Michigan's meteorites to contribute to advancing solar system science.
​
Biography:
MICHAEL ANTHONY VELBEL (Ph.D., Yale University, 1984) is Professor of Geological Sciences at Michigan State University, East Lansing, MI and Research Associate, Division of Meteorites, Department of Mineral Sciences, National Museum of Natural History, Smithsonian Institution. He studies regolith geoscience, and the rates and mechanisms of mineral-water interactions during rock and mineral weathering in natural systems. His research investigates the geological, mineralogical, geochemical, and geomorphic factors that control mineral alterations at the Earth's surface and the migration of chemical elements through the landscape, emphasizing small watershed geochemistry. More recent related areas of research include terrestrial weathering of Antarctic and non-Antarctic meteorites; rock-, mineral-, and chemical-weathering on Mars and in Martian meteorites; enhancing understanding of Mars surface mission imagery (esp. Phoenix, Curiosity, and Perseverance) and compositional data through microscopic and mineralogical studies of terrestrial weathered-rock analogs and regolith (soil) simulants; recognition of pre-terrestrial aqueous alteration on other meteorite (mainly primitive) parent bodies from mineralogical investigations of meteorites (especially C2 carbonaceous chondrites); and preservation of sample science integrity for past (e.g., Stardust,Hayabusa), ongoing (Hayabusa2, OSIRIS-REx), and future samplereturn missions (e.g., Mars Sample Return Campaign). In addition to MSU, Prof. Velbel has held visiting appointments at the University of Cincinnati (1990-1991), the Faculté des Sciences-St Jérôme of the Université Paul Cézanne (Université d'Aix-Marseilles III) (1992), the Australian National University and the (Australian) Cooperative Research Centre for Landscape Evolution and Mineral Exploration (CRC-LEME) (1998). He held NASA/ASEE Summer Faculty Fellowships at the NASA Johnson Space Center (1987, 1999). He was a Smithsonian Senior Fellow (2012-2013) and a Research Associate (2013-2022) at the Division of Meteorites, Department of Mineral Sciences, National Museum of Natural History, Smithsonian Institution. He was President of The Clay Minerals Society (2013-2014) and (Acting) Editor in Chief of its journal, Clays and Clay Minerals (July 2014 to January 2016). He was a member of the Michigan Space Grant Consortium Executive Board (2011-2020). He was selected for the year-long (mid-2020 to mid-2021) joint NASA/ESA Mars Sample Return (MSR) Science Planning Group phase 2 (MSPG2) that established the scientific basis for planning of the receiving, curation, and management of the samples after their arrival at Earth in the early 2030s, and the MSR Temperature-Time Tiger Team (T4) Jan-Feb 2022. He is one of 16 Selected Scientists for the four (4)-year-long (mid-2022 to mid-2026) joint NASA/ESA Mars Sample Return (MSR) Campaign Science Group phase (MCSG). The 16 researchers function as a science resource for the campaign's project teams as well as for related Earth-based ground projects, such as sample recovery and curation. "These 16 individuals will be the standard-bearers for Mars Sample Return science," said Michael Meyer, Mars Exploration Program lead scientist at NASA Headquarters in Washington. "They will build the roadmap by which science for this historic endeavor is accomplished – including establishing the processes for sample-related decision-making and designing the procedures that will allow the worldwide scientific community to become involved with these first samples from another world."
https://www.jpl.nasa.gov/news/nasa-partner-establishnew-
research-group-for-mars-sample-returnprogram?
utm_source=iContact&utm_medium=email&utm_campaign=nasajpl&utm_content=daily06142022-1
​
Below are links to recordings of the past (3) MBGS meetings
​
A 3-D Bedrock Geologic and Hydrostratigraphic Model of Southern Ontario
Date: April 13th, 2022
Meeting Recording:
https://us06web.zoom.us/rec/share/NSxlqWFWWpT3pJL9CRiKnhj7PXfyCr76VpIvMo8-bSNcGdS9M4E67BBP4BQGIN1m.jGh9-MLDuhx-Wu82
​
Below are the 2 original presentations that Terry presented:
A Revised 3-D Geologic Model of the Bedrock of Southern Ontario and Progress on Development of a 3-D Hydrostratigraphic Model
https://www.youtube.com/watch?v=H0VZLNMxpKU&list=PLdapv5BeduhV3JoX6F4giIHGRgYI6Bkag&index=2
​
A 3-D Bedrock Hydrostratigraphic Model of Southern Ontario
https://www.youtube.com/watch?v=GgJmOHYZtak&list=PLdapv5BeduhXJZedclmAYiccOCcSuYsMW&index=20
​
Articles referenced in the presentation:
​
A Hydrostratigraphic Framework for the Paleozoic Bedrock of Southern Ontario
https://journals.lib.unb.ca/index.php/GC/article/view/31465/1882527052
​
A Three-Dimensional Geological Model of the Paleozoic Bedrock of Southern Ontario, Groundwater Resources Study 19 Geological Survey of Canada, Open File 8618
http://www.geologyontario.mndm.gov.on.ca/mndmfiles/pub/data/imaging/GRS019//GRS019_Report.pdf
​
Lake Michigan Shorelines, Catastrophic Failure or Stable, That is the Question, Date: Jan 12, 2022
Meeting Recording:
https://us06web.zoom.us/rec/share/-Gr3efOHXLqk_SSFJqsMG9VpAk8sbQc9WWZDroawji1DYfjnD84IfzTSsc3XYh78.zXGywtGcpy1j0c_B

Grand Canyon MBGS Field Excursions, Date: Feb 9, 2022
Meeting Recording:
https://us06web.zoom.us/rec/share/tsuSxIgrJHVChOxJ_DNG93ORQWEHYy3QWyydUky3SNrZ350kolgUBVX1Ms_7ZWA2.-Lk0MwdVkDxLzXGz
​​
​
New Survey Publication – An Updated Bibliography of Michigan Geology
​
John Yellich and Peter Voice, Western Michigan University Department of Geological Sciences and Michigan Geological Survey

The Michigan Geological Survey is proud to announce a new publication: Michigan Geology: A Bibliography, the second volume in the Michigan Geological Survey Data Compilation Series. This updated compilation lists over 7,700 references from all known Michigan sources, including industry, professional associations and universities and includes publications from 1818 to present. This report documents 200 years of Geological Research in Michigan. The Bibliography is sorted into four general categories – Precambrian, Basin, Quaternary, and Other.
This updated version of the bibliography also includes a short section on Michigan Stratigraphic Nomenclature, as well as brief discussion of historical trends in publication frequency in Michigan.
​
The report is free to download at the Michigan Geological Survey's webpage: https://wmich.edu/geologysurvey/research/publications.
DOUGLASS HOUGHTON MEMORIAL
Douglass Houghton, Michigan's first State Geologist, was honored on September 10, 2016 by
the placement of a State of Michigan Historical Marker commemorating his accomplishments. The
effort was led by Arlene Anderson‐Vincent, members of the Michigan Basin Geological Society,
Keweenaw County Historical Society and faculty at Western Michigan University and Michigan
Technological University. The dedication was incorporated into a MBGS field excursion led by
Professor Ted Bornhorst of Michigan Technological University and Lawrence Molloy, President of the Keweenaw County Historical Society. The two led a field excursion that covered the geology and history of sites from Houghton to Copper Harbor and wove a tale of the rise and fall of mining in the copper range. The field excursion included the dedication of the marker, which is located in Eagle River, Michigan at the Keweenaw County Historical Museum. The dedication had many speakers and a special appearance from Kyle Bagnall, who portrayed Bela Hubbard who told the story of Douglass Houghton's 1840 expedition along Lake Superior. Douglass Houghton died in 1845 when the boat carrying himself and his crew capsized during a storm on Lake Superior near Eagle River.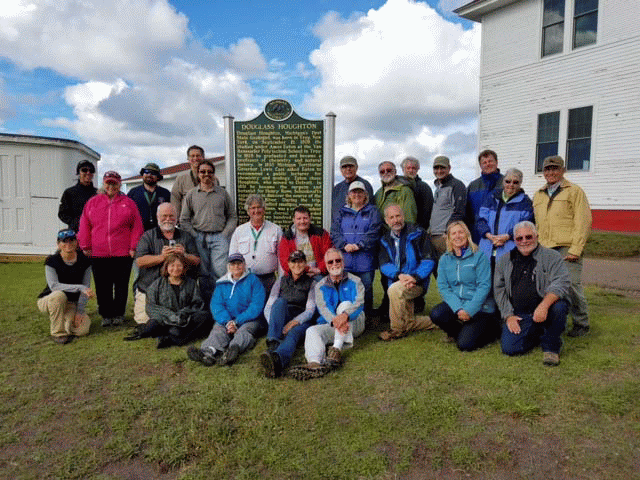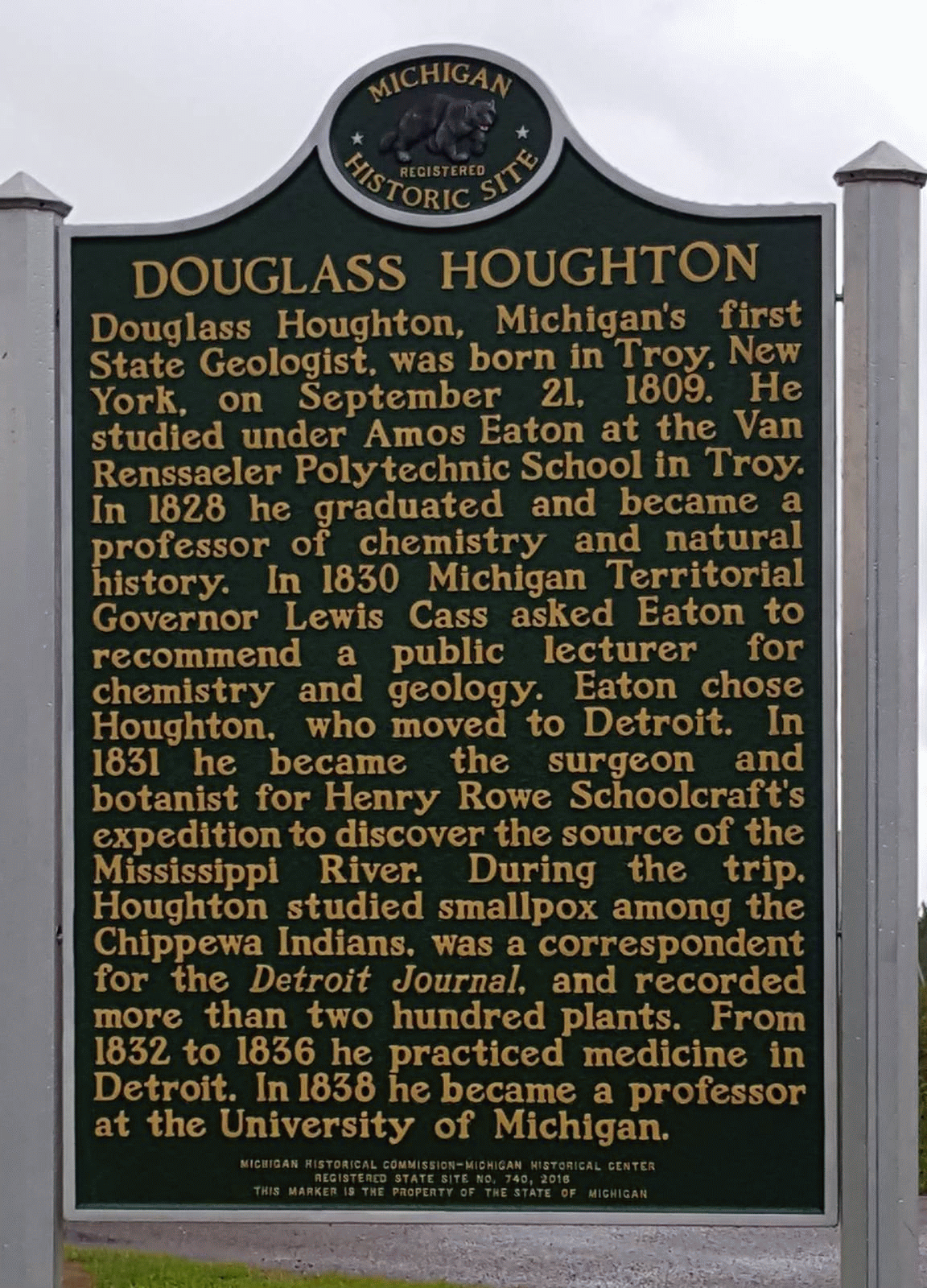 Michigan Basin Geological Society
​
The Michigan Basin Geological Society (MBGS) was founded in 1936 as an affiliated non-profit organization of the American Association of Petroleum Geologists (AAPG) to provide a forum for the exchange of ideas relating to the field of petroleum geology through field excursions and meetings.
​
Throughout the years, the role of the society has changed, and both meetings and field excursions now address a wide range of topics pertaining to the study of geology of Michigan and the great lakes area, and is open to anyone interested in geology.
​
MBGS has monthly meetings typically on the second Wednesday of each month from September through May. These meeting consist of a lecture on a wide variety of Michigan geology related topics. The meetings are open to all. The Executive Committee Officers meet prior to the meeting to discuss Society issues and is open to anyone interested in attending. The society has 1-3 geological field trips per year.
​
MBGS members are geologists, work in a geology related field, or are a geology student or hobbyist. The Society is dedicated to the advancement of the science of geology and related fields, disseminating knowledge of geology or related fields for the benefit of its members, and promoting the education of geology in Michigan. Annual dues are $35 per person and $10 per student.
November 9, 2022: MBGS Meeting
​
November 5, 2022, MBGS Field Excursion, Sand and Sandstone Revisited: Lithostratigraphy of Carboniferous Sandstones in the Jackson Coal Province, Central Jackson County, Michigan, USA
​
November 9, 2022: Air and Waste Management Association, 2022 Fall Joint Environmental Conference, Lansing, Michigan, Events — Air & Waste Management Association + West Michigan Chapter (wmawma.org)
​
December 5-7, 2022: Great Lakes PFAS Summit, virtual, 2022 Great Lakes PFAS Summit (michigan.gov)
​
December 8, 2022: Michigan Section AIPG Annual Meeting, Ann Arbor, AIPG Michigan Section 2022 Annual Meeting
​
December 14, 2022: MBGS Meeting
​
December 20, 2022: MBGS Scholarship Applications Due. Mail applications to John Yellich (john.a.yellich@wmich.edu)
and title email "RE: MBGS Scholarship Application. Applications are available on the website at www.mbgs.org
​
January 11, 2023: MBGS Meeting
​
February 8, 2023: MBGS Meeting
​
March 8, 2023: MBGS Meeting
​
April 12, 2023: MBGS Meeting
​
May 4-5th, 2023, GSA 2023 North-Central Section 57th Annual Meeting Grand Rapids, Michigan, USA,
https://www.geosociety.org/GSA/Events/Section_Meetings/GSA/Sections/nc/2023mtg/home.aspx
​
May 10, 2022: MBGS Meeting- tentative
​
May 19-21, 2023, 58th Midwest Friends of the Pleistocene field conference :The Glacial and Geomorphic Evolution of the Houghton Lake Basin Roscommon, Mi.
​
EGLE Calendar of Training and Workshops
https://www.michigan.gov/egle/0,9429,7-135-3308_3333---,00.html
​
Michigan State University, College of Natural Science, Department of Earth and Environmental Science,
Events https://ees.natsci.msu.edu/events/

Michigan Tech – Geoseminars ‐ http://pages.mtu.edu/~raman/SilverI/Geoseminar/Welcome.html

University of Michigan Earth and Environmental Science
Events https://lsa.umich.edu/earth

Western Michigan University, Geological and Environmental Sciences
Events https://wmich.edu/geology/events
​