​
​
INTRODUCING THE 2022 - 2023 MBGS EXECUTIVE COMMITTEE MEMBERS
President – Jennifer Trout, Western Michigan University

Vice President – Andrea Munoz-Hernandez, Ph.D., GISP. Mich. Dept. of Environment, Great Lakes and Energy

Secretary – John Yellich, Michigan Geological Survey

Treasurer – Peter Rose Michigan Department of Natural Resources

Business Manager – Peter Rose, Michigan Department of Natural Resources

Past President – Chris Christensen, Michigan Dept. of Environment, Great Lakes and Energy
​
MBGS has monthly meetings typically on the 2nd Wednesday
of each month from September - May
ACCEPTING APPLICATIONS FOR THE 2022 MBGS E.Z. MANOS MEMORIAL SCHOLARSHIP
Michigan Basin Geological Society will award two scholarships up to $500 each to students conducting graduate or undergraduate research in geology related to Michigan. The scholarships will be awarded at an upcoming MBGS meeting and the winner(s) will be notified In December. We hope recipients can attend a spring MBGS meeting to present their research topic. Candidates should complete and submit the MBGS scholarship application form by December 20, 2022 to John A. Yellich, MBGS Secretary, at john.a.yellich@wmich.edu with subject Line: MBGS Scholarship 2022.
Applications and more information can be found on MBGS's Scholarship Page
​
MBGS MEMBERSHIP DUES
MBGS continues to strive to provide a platform for geologist and environmental professionals to connect and offer learning and field trip opportunities. For 2021-2022, our annual dues are $35. Student Membership is free. Email any one of our officers if you are a student and would like to be a member. We now offer the option to renew your professional membership via PayPal. Please refer to the renewal notices that are included in the newsletter. Student Membership is free.
​
MBGS Survey
In an effort to better fulfill our mission of providing a forum for the discussion and study of the geology of Michigan and the Great Lakes area through meetings and field trips, we are asking for your input. Please fill out a questionaire at Survey Monkey https://www.surveymonkey.com/r/JY9V385. There is a copy of the survey included in the newsletter.
​
Professional Membership Dues
MBGS continues to strive to provide a platform for geologist and environmental professionals to connect and offer learning and field trip opportunities. For 2022-2023, our annual dues will increase to $35 for members. Student memberships are free, but they
need to fill out the Student Membership Registration Form (above). Renewal notices are included in the newsletter.
OTHER NEWS: MBGS HISTORICAL PUBLICATIONS ARE NOW AVAILABLE ON USB FLASH DRIVES (8GB).

MBGS Publications ‐ There are two (2) new publications available! See details on the Publications page
​
MBGS On-line Store - Shop for shirts, hats, bags and other items. Check it out at: http://www.cafepress.com/mbgs
Please join us for the Michigan Basin Geological Society's membership meetings for the 2022-2023
​
Due to Zoom technical issues, were to unable to host the April 12th meeting. It is rescheduled for May 9th.
​
MBGS Membership Meeting Tuesday, May 9th, 2023, 7:00PM
Zoom Meeting
​
Speaker: Dr. Jeffrey Freymueller and Dr. Anthony Kendall, Michigan State University
​
Topic: Developing a Groundwater Model for the Great Lakes Basin Using Multi-disciplinary Observations
​
Join Zoom Meeting
​
Link:
https://us06web.zoom.us/j/84372592765?pwd=OTdNbGgvUzlQcVFyZllsSUUxU05LZz09
Meeting ID:
843 7259 2765
Passcode
624643
​
Abstract: Developing a Groundwater Model for the Great Lakes Basin Using Multi-disciplinary Observations
​
The Great Lakes are perhaps the world's single most evident store of freshwater, including five of its largest lakes and over 20% of total surface freshwater. Yet, below the land surface of the Great Lakes Basin lies a sixth, mostly unknown store of water. Hidden from view, groundwater flows through a complex collection of groundwater aquifers containing more water than Lake Huron. Scientists and engineers struggle to understand the dynamic nature of Great Lakes
groundwater due to factors including complex glacial terrain and a lack of long-term
monitoring data across the Basin. Yet this vast flow and store of water is not completely invisible; scientists from MSU's Earth and Environmental Sciences, in partnership with five universities across the US, are bringing together traditionally isolated practices, tools, and data, to form a new understanding of Great Lakes groundwater. The tremendous mass of all of the Great Lakes Basin flowing waters deforms the land's surface, which geodesists can measure using millimeter-accurate measurements of hundreds of points across the basin from GPS, similarly-precise maps of surface deflections from satellite radar, and orbital
instruments that map Earth's gravity field. Water, seeping up from below, saturates hundreds of thousands of wetlands across the Basin–a seasonal transformation visible to remote sensing scientists using both optical and radar satellites. Hydrologic modelers can then build synthetic versions of the Great Lakes aquifer systems, simulating how weather, climate, and human land and water use control the movement of groundwater. Through this interdisciplinary effort,
we will develop a deeper understanding of this critical groundwater resource, and create for the first time complete, dynamic maps of groundwater levels and movement across the Basin. Researchers, policymakers, engineers, and the general public across the US and Canada will directly benefit from this new view of one of the Earth's most important– yet invisible–water resources.
​
Biography:
Dr. Jeffrey Freymueller
Dr. Freymueller is a geodesist who works to understand the structure and movements of Earth's crust, either through the deep forces that drive plate tectonics, or the near-surface movements of water. He employs an ever expanding network of global positioning satellites to measure the vertical and horizontal movements of the surface over years to
decades. These often slow, but sometimes startlingly abrupt, motions reveal the processes otherwise hidden underneath. Dr. Freymueller holds an endowed Chair for Geology of the Solid Earth in MSU's Earth and Environmental Sciences, and also serves at that department's chair.
​
Dr. Anthony Kendall
Dr. Kendall is a hydrogeologist who studies human and climate interactions with the terrestrial water cycle, focusing on water resource quantity and quality. He uses computational models of groundwater and surface water systems, along with machine learning and remote sensing, to answer questions that data and experiments alone cannot. He is an Assistant Professor in MSU's Earth and Environmental Sciences, but is a long-time Spartan, holding three degrees from MSU and working there as a full-time researcher for over a decade.
​
Go to Presentations page for recent MBGS presentations as PDF file
​
Below are links to recordings of the past (3) MBGS meetings
​
A 3-D Bedrock Geologic and Hydrostratigraphic Model of Southern Ontario
Date: April 13th, 2022
Meeting Recording:
https://us06web.zoom.us/rec/share/NSxlqWFWWpT3pJL9CRiKnhj7PXfyCr76VpIvMo8-bSNcGdS9M4E67BBP4BQGIN1m.jGh9-MLDuhx-Wu82
​
Below are the 2 original presentations that Terry presented:
A Revised 3-D Geologic Model of the Bedrock of Southern Ontario and Progress on Development of a 3-D Hydrostratigraphic Model
https://www.youtube.com/watch?v=H0VZLNMxpKU&list=PLdapv5BeduhV3JoX6F4giIHGRgYI6Bkag&index=2
​
A 3-D Bedrock Hydrostratigraphic Model of Southern Ontario
https://www.youtube.com/watch?v=GgJmOHYZtak&list=PLdapv5BeduhXJZedclmAYiccOCcSuYsMW&index=20
​
Articles referenced in the presentation:
​
A Hydrostratigraphic Framework for the Paleozoic Bedrock of Southern Ontario
https://journals.lib.unb.ca/index.php/GC/article/view/31465/1882527052
​
A Three-Dimensional Geological Model of the Paleozoic Bedrock of Southern Ontario, Groundwater Resources Study 19 Geological Survey of Canada, Open File 8618
http://www.geologyontario.mndm.gov.on.ca/mndmfiles/pub/data/imaging/GRS019//GRS019_Report.pdf
​
Lake Michigan Shorelines, Catastrophic Failure or Stable, That is the Question, Date: Jan 12, 2022
Meeting Recording:
https://us06web.zoom.us/rec/share/-Gr3efOHXLqk_SSFJqsMG9VpAk8sbQc9WWZDroawji1DYfjnD84IfzTSsc3XYh78.zXGywtGcpy1j0c_B

Grand Canyon MBGS Field Excursions, Date: Feb 9, 2022
Meeting Recording:
https://us06web.zoom.us/rec/share/tsuSxIgrJHVChOxJ_DNG93ORQWEHYy3QWyydUky3SNrZ350kolgUBVX1Ms_7ZWA2.-Lk0MwdVkDxLzXGz
​​
​
New Survey Publication – An Updated Bibliography of Michigan Geology
​
John Yellich and Peter Voice, Western Michigan University Department of Geological Sciences and Michigan Geological Survey

The Michigan Geological Survey is proud to announce a new publication: Michigan Geology: A Bibliography, the second volume in the Michigan Geological Survey Data Compilation Series. This updated compilation lists over 7,700 references from all known Michigan sources, including industry, professional associations and universities and includes publications from 1818 to present. This report documents 200 years of Geological Research in Michigan. The Bibliography is sorted into four general categories – Precambrian, Basin, Quaternary, and Other.
This updated version of the bibliography also includes a short section on Michigan Stratigraphic Nomenclature, as well as brief discussion of historical trends in publication frequency in Michigan.
​
The report is free to download at the Michigan Geological Survey's webpage: https://wmich.edu/geologysurvey/research/publications.
DOUGLASS HOUGHTON MEMORIAL
Douglass Houghton, Michigan's first State Geologist, was honored on September 10, 2016 by
the placement of a State of Michigan Historical Marker commemorating his accomplishments. The
effort was led by Arlene Anderson‐Vincent, members of the Michigan Basin Geological Society,
Keweenaw County Historical Society and faculty at Western Michigan University and Michigan
Technological University. The dedication was incorporated into a MBGS field excursion led by
Professor Ted Bornhorst of Michigan Technological University and Lawrence Molloy, President of the Keweenaw County Historical Society. The two led a field excursion that covered the geology and history of sites from Houghton to Copper Harbor and wove a tale of the rise and fall of mining in the copper range. The field excursion included the dedication of the marker, which is located in Eagle River, Michigan at the Keweenaw County Historical Museum. The dedication had many speakers and a special appearance from Kyle Bagnall, who portrayed Bela Hubbard who told the story of Douglass Houghton's 1840 expedition along Lake Superior. Douglass Houghton died in 1845 when the boat carrying himself and his crew capsized during a storm on Lake Superior near Eagle River.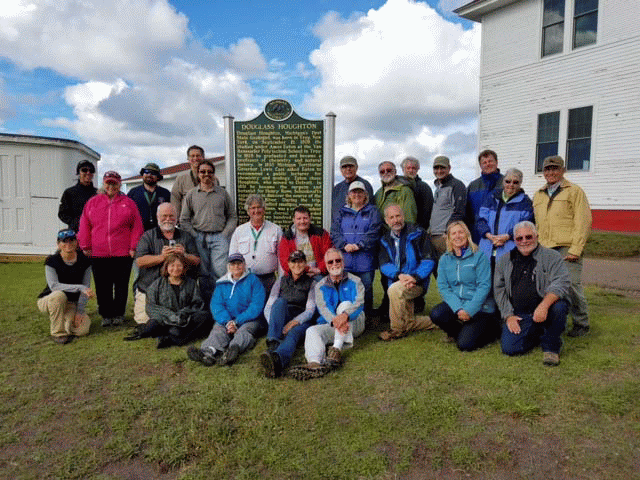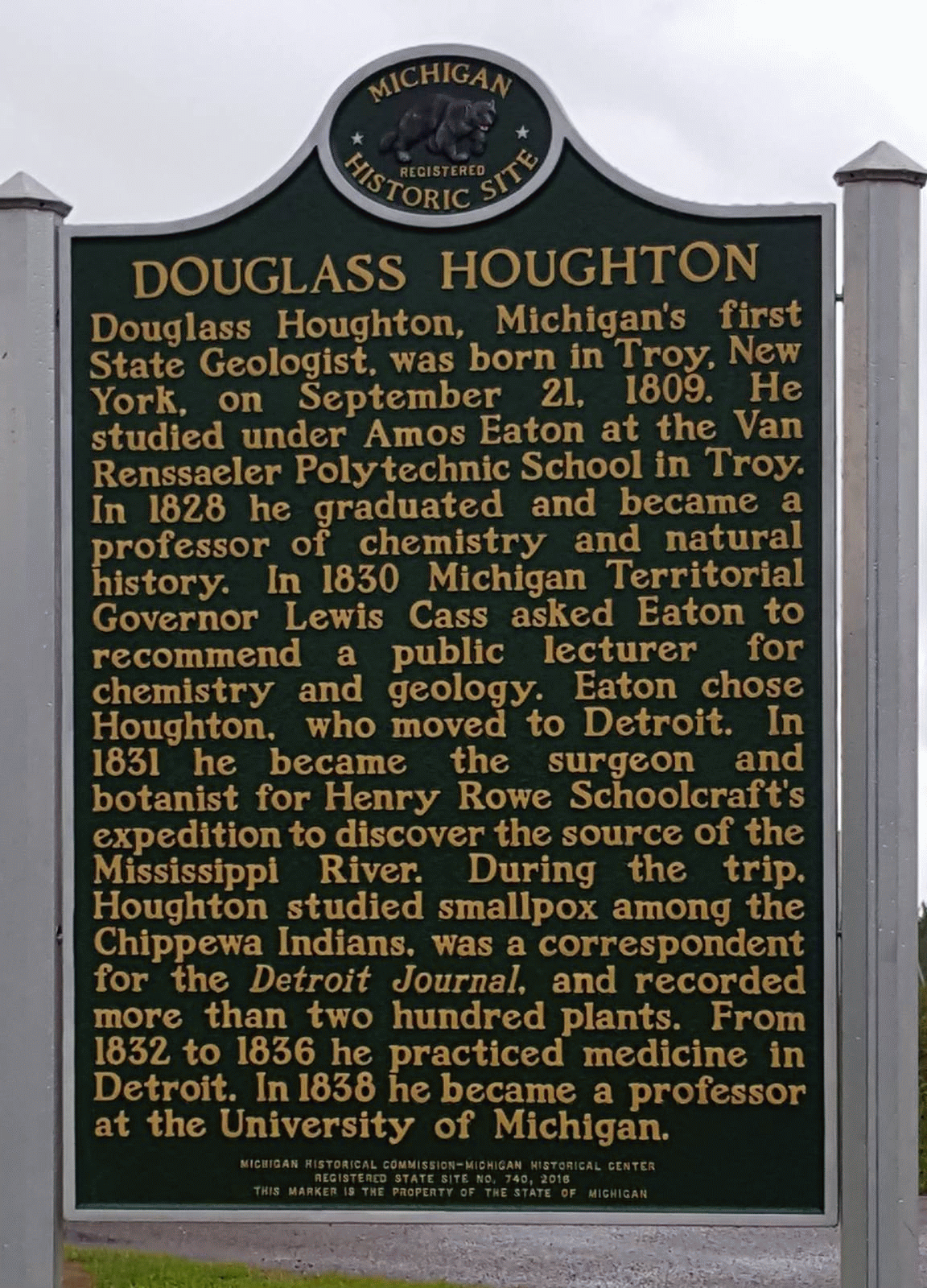 Michigan Basin Geological Society
​
The Michigan Basin Geological Society (MBGS) was founded in 1936 as an affiliated non-profit organization of the American Association of Petroleum Geologists (AAPG) to provide a forum for the exchange of ideas relating to the field of petroleum geology through field excursions and meetings.
​
Throughout the years, the role of the society has changed, and both meetings and field excursions now address a wide range of topics pertaining to the study of geology of Michigan and the great lakes area, and is open to anyone interested in geology.
​
MBGS has monthly meetings typically on the second Wednesday of each month from September through May. These meeting consist of a lecture on a wide variety of Michigan geology related topics. The meetings are open to all. The Executive Committee Officers meet prior to the meeting to discuss Society issues and is open to anyone interested in attending. The society has 1-3 geological field trips per year.
​
MBGS members are geologists, work in a geology related field, or are a geology student or hobbyist. The Society is dedicated to the advancement of the science of geology and related fields, disseminating knowledge of geology or related fields for the benefit of its members, and promoting the education of geology in Michigan. Annual dues are $35 per person and $10 per student.
May 9th, 2023: MBGS Meeting
​
May 4-5th, 2023, GSA 2023 North-Central Section 57th Annual Meeting Grand Rapids, Michigan, USA,
https://www.geosociety.org/GSA/Events/Section_Meetings/GSA/Sections/nc/2023mtg/home.aspx
​
May 19-21, 2023, 58th Midwest Friends of the Pleistocene field conference :The Glacial and Geomorphic Evolution of the Houghton Lake Basin Roscommon, Mi.
​
June 13-14, 2023, AIPG Environmental Risk Management Workshop, Roscommon, Mi
​
June 21-22, 2023: Michigan Environmental Justice Conference Michigan Environmental Justice Conference - Michigan
Department of Environment, Great Lakes, and Energy (idloom.events)
​
EGLE Calendar of Training and Workshops
https://www.michigan.gov/egle/0,9429,7-135-3308_3333---,00.html
​
Michigan State University, College of Natural Science, Department of Earth and Environmental Science,
Events https://ees.natsci.msu.edu/events/

Michigan Tech – Geoseminars ‐ http://pages.mtu.edu/~raman/SilverI/Geoseminar/Welcome.html

University of Michigan Earth and Environmental Science
Events https://lsa.umich.edu/earth

Western Michigan University, Geological and Environmental Sciences
Events https://wmich.edu/geology/events
​