​
​
INTRODUCING THE 2020 - 2021 MBGS EXECUTIVE COMMITTEE MEMBERS
President – Chris Christensen, Michigan Dept. of Environment, Great Lakes and Energy

Vice President – Adedoyin S. Adeyiloa, Central Michigan University

Secretary – John Yellich, Michigan Geological Survey

Treasurer – Peter Rose Michigan Department of Natural Resources

Business Manager – Peter Rose, Michigan Department of Natural Resources

Past President – Jennifer Trout, Western Michigan University
​
​
​
MBGS continues to strive to provide a platform for geologist and environmental professionals to connect and offer learning and field trip opportunities. For 2021-2022, our annual dues will increase to $35 for members. Student dues will remain at $10. Renewal notices are included in the newsletter.
ACCEPTING APPLICATIONS FOR THE 2021 MBGS E.Z. MANOS MEMORIAL SCHOLARSHIP
The Michigan Basin Geological Society will award two scholarships up to $500 each to students conducting graduate or undergraduate research in geology related to Michigan. The scholarships will be awarded at an upcoming MBGS meeting and the winner(s) will be notified In December.
We hope recipients can attend a spring MBGS meeting to present their research topic.
Candidates should complete and submit the MBGS scholarship application form by November 27, 2021 to John A. Yellich, MBGS Secretary, at john.a.yellich@wmich.edu with subject Line: MBGS Scholarship 2021.
Applications and more information can be found on MBGS's Scholarship Page
​
OTHER NEWS: MBGS HISTORICAL PUBLICATIONS ARE NOW AVAILABLE ON USB FLASH DRIVES (8GB).

MBGS Publications ‐ There are two (2) new publications available! See details on the Publications page
​
MBGS On-line Store - Shop for shirts, hats, bags and other items. Check it out at: http://www.cafepress.com/mbgs
MBGS has monthly meetings typically on the 2nd Wednesday
of each month from September - May
Please join us for the first Michigan Basin Geological Society's membership meeting for the 2020-2021 year.
​
MBGS Virtual Membership Meeting, Wednesday November 10th, 7:00 PM, 2021
​
SPEAKER: Laurel Woodruff, United States Geological Survey
​
TOPIC: The remarkable Midcontinent Rift System – almost an ocean and certainly not a failure
​
LOCATION: his will be a virtual Zoom meeting. Please RSVP to Jennifer Trout at:
​
Join Zoom Meeting
https://us06web.zoom.us/j/82682557674?pwd=VGlYaXVRRHpqSG4xdzlWL2dlQkVmdz09
Meeting ID: 826 8255 7674 Passcode: YQ4ZtD
Call In:
+13017158592, 82682557674# *528414# US (Washington DC)
+13126266799, 82682557674# *528414# US (Chicago)
​
Abstract:
The Midcontinent Rift System (MRS) is an approximately 2,200 km curvilinear Mesoproterozoic rift that stretches from Kansas northeast to the Lake Superior region where it turns southeast and extends through lower Michigan. Although rocks of the MRS are largely buried beneath younger rocks except around the margins and on islands of Lake Superior, the full extent of the MRS is highlighted by large positive aeromagnetic and gravity anomalies created by the huge volume of mafic volcanic and intrusive rocks that comprise the rift system. Rift volcanism lasted more than 20 million years, from about 1112 Ma to about 1090 Ma, with minor eruptions extending to about 1083 Ma. As magmatism waned, the rift transitioned to a sedimentary regime, with clastic sedimentation attributed to post-rifting thermal subsidence. Seismic reflection profiles across the Lake Superior basin show that during rifting the Archean/Paleoproterozoic crust was thinned to less than half of its pre-rift thickness of ~50 km, replaced by more than 20 to 25 km of rift-related basaltic lava flows and intrusions, overlain by up to 5 to 7 km of clastic sedimentary rock. Faulting within a compressional regime heralded by the Grenville orogeny created the geometry of the rift still preserved today. Despite its extended tectonic history and extensive magmatism, complete separation of the continental crust was never completed, leading to an unfortunate mislabeling of the MRS as a 'failed rift'.
The success of the MRS is exemplified but its recognition as the most prolifically and diversely mineralized large igneous province known on Earth. MRS rocks in the Lake Superior region host a varied suite of magmatic and hydrothermal mineral deposits, many of which are significant past, present, and likely future providers of critical mineral. Historically, hydrothermal deposits, such as Michigan's native copper deposits and the White Pine sediment-hosted stratiform copper deposit, were major MRS metal producers. On-going exploration for and potential development of copper-nickel sulfide deposits hosted by the Duluth Complex of Minnesota and the opening of the Eagle nickel mine in Michigan indicate an expanding interest in MRS magmatic deposits.
​
Biography:
Laurel Woodruff (a native of Michigan) is a research geologist with the U.S. Geological Survey. She joined the Survey in 1983 in Reston, Virginia and relocated to Minnesota in 1991. Laurel received a B.S. from the University of Michigan, an M.S. from Michigan Technological University, and a Ph.D. from the University of Chicago. All three degrees were in geology. Over the last nearly 4 decades she has worked on a multiplicity of projects for the USGS, from soil geochemistry to titanium resources to the fate of mercury during wildfires. Until last year, Laurel was the head of a 5-year USGS project synthesizing the geology, geophysics, and metallogeny of the Midcontinent Rift System in the Lake Superior region. She currently is the Central Region co-leader for the USGS Earth Mapping Resources Initiative (Earth MRI) critical minerals effort.
New Survey Publication – An Updated Bibliography of Michigan Geology
​
John Yellich and Peter Voice, Western Michigan University Department of Geological Sciences and Michigan Geological Survey

The Michigan Geological Survey is proud to announce a new publication: Michigan Geology: A Bibliography, the second volume in the Michigan Geological Survey Data Compilation Series. This updated compilation lists over 7,700 references from all known Michigan sources, including industry, professional associations and universities and includes publications from 1818 to present. This report documents 200 years of Geological Research in Michigan. The Bibliography is sorted into four general categories – Precambrian, Basin, Quaternary, and Other.
This updated version of the bibliography also includes a short section on Michigan Stratigraphic Nomenclature, as well as brief discussion of historical trends in publication frequency in Michigan.
​
The report is free to download at the Michigan Geological Survey's webpage: https://wmich.edu/geologysurvey/research/publications.
DOUGLAS HOUGHTON MEMORIAL
Douglass Houghton, Michigan's first State Geologist, was honored on September 10, 2016 by
the placement of a State of Michigan Historical Marker commemorating his accomplishments. The
effort was led by Arlene Anderson‐Vincent, members of the Michigan Basin Geological Society,
Keweenaw County Historical Society and faculty at Western Michigan University and Michigan
Technological University. The dedication was incorporated into a MBGS field excursion led by
Professor Ted Bornhorst of Michigan Technological University and Lawrence Molloy, President of the Keweenaw County Historical Society. The two led a field excursion that covered the geology and history of sites from Houghton to Copper Harbor and wove a tale of the rise and fall of mining in the copper range. The field excursion included the dedication of the marker, which is located in Eagle River, Michigan at the Keweenaw County Historical Museum. The dedication had many speakers and a special appearance from Kyle Bagnall, who portrayed Bela Hubbard who told the story of Douglass Houghton's 1840 expedition along Lake Superior. Douglass Houghton died in 1845 when the boat carrying himself and his crew capsized during a storm on Lake Superior near Eagle River.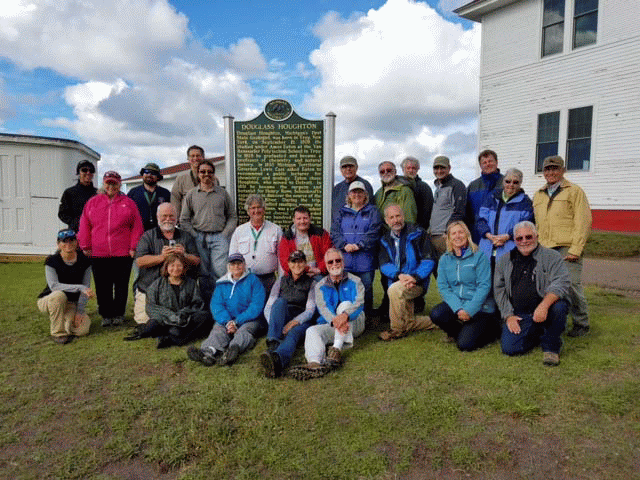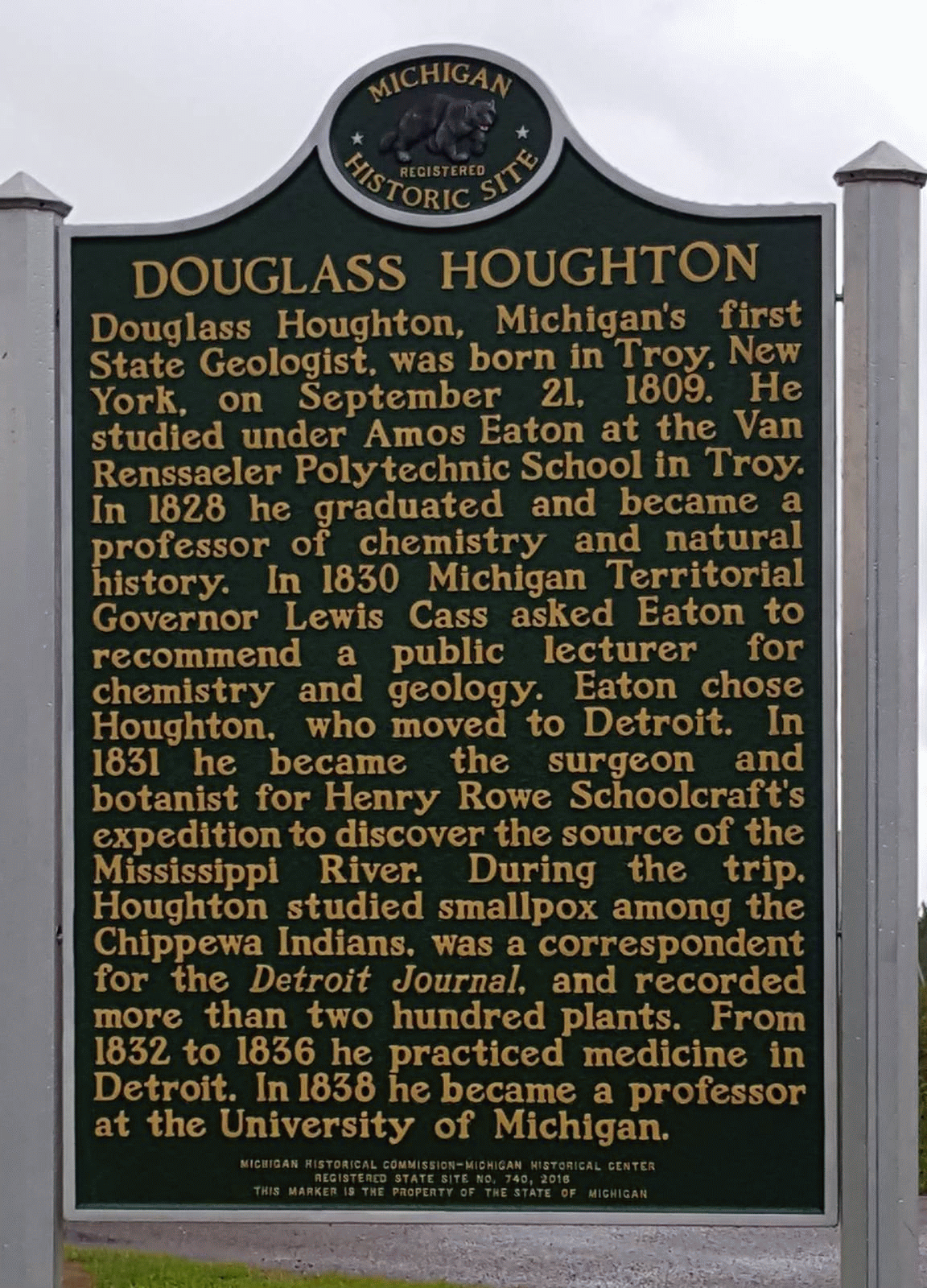 Michigan Basin Geological Society
​
The Michigan Basin Geological Society (MBGS) was founded in 1936 as an affiliated non-profit organization of the American Association of Petroleum Geologists (AAPG) to provide a forum for the exchange of ideas relating to the field of petroleum geology through field excursions and meetings.
​
Throughout the years, the role of the society has changed, and both meetings and field excursions now address a wide range of topics pertaining to the study of geology of Michigan and the great lakes area, and is open to anyone interested in geology.
​
MBGS has monthly meetings typically on the second Wednesday of each month from September through May. These meeting consist of a lecture on a wide variety of Michigan geology related topics. The meetings are open to all. The Executive Committee Officers meet prior to the meeting to discuss Society issues and is open to anyone interested in attending. The society has 1-3 geological field trips per year.
​
MBGS members are geologists, work in a geology related field, or are a geology student or hobbyist. The Society is dedicated to the advancement of the science of geology and related fields, disseminating knowledge of geology or related fields for the benefit of its members, and promoting the education of geology in Michigan. Annual dues are $35 per person and $10 per student.
November 10, 2021: Michigan Basin Geological Society Membership Meeting: MBGS Monthly Membership meeting (virtual)
December 6-10, 2021, 2021: Great Lakes PFAS Summit, virtual, EGLE - 2021 Great Lakes PFAS Summit (michigan.gov)
​
October 8, 9, 10, 2021: Michigan Mineralogical Society's Greater Detroit Gem, Mineral and Fossil Show Macomb Community College, South Campus Expo Center 14500 E. 12 Mile Road, Warren, MI 48088 Info: www.michmin.org/show-info
​
Oct 23-26, 2021: Annual National AIPG Meeting, Sacramento, CA; American Institute of Professional Geologists (aipg.org)
​
November 27, 2021: MBGS Scholarship Applications Due. Applications are available on the website at www.mbgs.org
​
December 9th, 2021: MAEP Annual Meeting, Ann Arbor, Michigan Association of Environmental Professionals - 2021 MAEP Annual Meeting
​
November 10, 2021: Michigan Basin Geological Society Membership Meeting: MBGS Monthly Membership meeting (virtual)
​
December 8, 2021: Michigan Basin Geological Society Membership Meeting: MBGS Monthly Membership meeting (virtual)
​
January 12, 2022: Michigan Basin Geological Society Membership Meeting: MBGS Monthly Membership meeting (virtual)
​
February 9, 2022: Michigan Basin Geological Society Membership Meeting: MBGS Monthly Membership meeting (virtual)
​
March 9, 2022: Michigan Basin Geological Society Membership Meeting: MBGS Monthly Membership meeting (virtual)
​
April 13, 2022: Michigan Basin Geological Society Membership Meeting: MBGS Monthly Membership meeting (virtual)
​
May 11, 2022: Michigan Basin Geological Society Membership Meeting: MBGS Monthly Membership meeting (virtual)
​
June 21-22, 2022: Environmental Risk Management Workshop at the Ralph A. MacMullan Conference Center, Roscommon, Michigan.
​
August 6-9, 2022: 58th Annual AIPG Meeting to be held in Marquette, Michigan.
​
EGLE Calendar of Training and Workshops
https://www.michigan.gov/egle/0,9429,7-135-3308_3333---,00.html
​
Michigan State University, College of Natural Science, Department of Earth and Environmental Science,
Events https://ees.natsci.msu.edu/events/

Michigan Tech – Geoseminars ‐ http://pages.mtu.edu/~raman/SilverI/Geoseminar/Welcome.html

University of Michigan Earth and Environmental Science
Events https://lsa.umich.edu/earth

Western Michigan University, Geological and Environmental Sciences
Events https://wmich.edu/geology/events
​