​
​
INTRODUCING THE 2021 - 2022 MBGS EXECUTIVE COMMITTEE MEMBERS
President – Jennifer Trout, Western Michigan University

Vice President – Andrea Munoz-Hernandez, Ph.D., GISP. Mich. Dept. of Environment, Great Lakes and Energy

Secretary – John Yellich, Michigan Geological Survey

Treasurer – Peter Rose Michigan Department of Natural Resources

Business Manager – Peter Rose, Michigan Department of Natural Resources

Past President – Chris Christensen, Michigan Dept. of Environment, Great Lakes and Energy
​
MBGS has monthly meetings typically on the 2nd Wednesday
of each month from September - May
ACCEPTING APPLICATIONS FOR THE 2022 MBGS E.Z. MANOS MEMORIAL SCHOLARSHIP
Michigan Basin Geological Society will award two scholarships up to $500 each to students conducting graduate or undergraduate research in geology related to Michigan. The scholarships will be awarded at an upcoming MBGS meeting and the winner(s) will be notified In December. We hope recipients can attend a spring MBGS meeting to present their research topic. Candidates should complete and submit the MBGS scholarship application form by December 20, 2022 to John A. Yellich, MBGS Secretary, at john.a.yellich@wmich.edu with subject Line: MBGS Scholarship 2022.
Applications and more information can be found on MBGS's Scholarship Page
​
MBGS MEMBERSHIP DUES
MBGS continues to strive to provide a platform for geologist and environmental professionals to connect and offer learning and field trip opportunities. For 2021-2022, our annual dues are $35. Student Membership is free. Email any one of our officers if you are a student and would like to be a member. We now offer the option to renew your professional membership via PayPal. Please refer to the renewal notices that are included in the newsletter. Student Membership is free
​
JACKSON COUNTY HISTORIC COAL DISTRICT FIELD TRIP
LED BY DAVE WESTJOHN AND BENNY SEE Saturday November 5, 2022 Estimated Cost $50
RSVP christensenc@michigan.gov
​
Professional Membership Dues
MBGS continues to strive to provide a platform for geologist and environmental professionals to connect and offer learning and field trip opportunities. For 2022-2023, our annual dues will increase to $35 for members. Student memberships are free, but they
need to fill out the Student Membership Registration Form (above). Renewal notices are included in the newsletter.
OTHER NEWS: MBGS HISTORICAL PUBLICATIONS ARE NOW AVAILABLE ON USB FLASH DRIVES (8GB).

MBGS Publications ‐ There are two (2) new publications available! See details on the Publications page
​
MBGS On-line Store - Shop for shirts, hats, bags and other items. Check it out at: http://www.cafepress.com/mbgs
Please join us for the Michigan Basin Geological Society's membership meetings for the 2022-2023
​
MBGS - Membership Meeting Wednesday October 12th, 7:00 PM
​
​Location: Natural Science Building, Rm 204
Michigan State University, East Lansing, Mi.
​
Speaker: Dr. Chris Svoboda
​
Topic: Fractional Crystallization and Crustal Contamination: Evolution of Late-Stage Magmas from the Porcupine Mountains in the 1.1 Ga Mid-Continent Rift
​
Abstract:
The Mid-Continent Rift (MCR) is a geologic structure that outcrops in the Lake Superior region where a mantle plume-influenced continental rift failed to dismember the North American continent 1.1 billion years ago. This rifting was set in a broader plate tectonic framework where the continent moved rapidly from polar to equatorial latitudes during the assembly of the supercontinent Rodinia. Rocks exposed in the Porcupine Mountains of Michigan form a stratigraphic sequence spanning multiple phases of MCR magmatism, from voluminous main-phase flood basalts to late-stage volcanics interbedded with sediments. These lavas are key to probing the crustal magmatic processes active in waning stages of this large igneous province. A basalt and rhyolite sequence lies conformably over the main-phase Portage Lake Volcanics that has isotopic signatures consistent with contamination by continental crust. The basalts in this sequence bear trace element signatures like latent phase magmas in the Mamainse Point Volcanic Group. They are interpreted as the final products of main phase volcanism where input from the mantle plume is greatly reduced. Younger late-stage lavas interbedded with the Copper Harbor Conglomerate also show isotopic evidence of crustal contamination. Trace element modeling suggests that these younger lavas incorporated different crust than the older post main-phase basalts. This difference is interpreted as a vertical change in the system where Porcupine Mountain magmas evolve. The late-stage lavas within the Copper Harbor Conglomerate may be evidence of the crustal magmatic processes involved in the transition from plume-influenced to passive margin continental rifting.
​
Biography:
Chris Svoboda received his bachelors and doctoral degrees in Geological Sciences from Michigan State University. His doctoral studies focused on igneous processes spanning the crust and mantle, and numerical modeling of these processes. He now works as a geologist for the Michigan Department of Environment, Great Lakes, and Energy in the Remediation and Redevelopment Division. He lives in Lansing, Michigan with his wife Allie, his daughter Olive, and their pets.
​
​
Below are links to recordings of the past (3) MBGS meetings
​
A 3-D Bedrock Geologic and Hydrostratigraphic Model of Southern Ontario
Date: April 13th, 2022
Meeting Recording:
https://us06web.zoom.us/rec/share/NSxlqWFWWpT3pJL9CRiKnhj7PXfyCr76VpIvMo8-bSNcGdS9M4E67BBP4BQGIN1m.jGh9-MLDuhx-Wu82
​
Below are the 2 original presentations that Terry presented:
A Revised 3-D Geologic Model of the Bedrock of Southern Ontario and Progress on Development of a 3-D Hydrostratigraphic Model
https://www.youtube.com/watch?v=H0VZLNMxpKU&list=PLdapv5BeduhV3JoX6F4giIHGRgYI6Bkag&index=2
​
A 3-D Bedrock Hydrostratigraphic Model of Southern Ontario
https://www.youtube.com/watch?v=GgJmOHYZtak&list=PLdapv5BeduhXJZedclmAYiccOCcSuYsMW&index=20
​
Articles referenced in the presentation:
​
A Hydrostratigraphic Framework for the Paleozoic Bedrock of Southern Ontario
https://journals.lib.unb.ca/index.php/GC/article/view/31465/1882527052
​
A Three-Dimensional Geological Model of the Paleozoic Bedrock of Southern Ontario, Groundwater Resources Study 19 Geological Survey of Canada, Open File 8618
http://www.geologyontario.mndm.gov.on.ca/mndmfiles/pub/data/imaging/GRS019//GRS019_Report.pdf
​
Lake Michigan Shorelines, Catastrophic Failure or Stable, That is the Question, Date: Jan 12, 2022
Meeting Recording:
https://us06web.zoom.us/rec/share/-Gr3efOHXLqk_SSFJqsMG9VpAk8sbQc9WWZDroawji1DYfjnD84IfzTSsc3XYh78.zXGywtGcpy1j0c_B

Grand Canyon MBGS Field Excursions, Date: Feb 9, 2022
Meeting Recording:
https://us06web.zoom.us/rec/share/tsuSxIgrJHVChOxJ_DNG93ORQWEHYy3QWyydUky3SNrZ350kolgUBVX1Ms_7ZWA2.-Lk0MwdVkDxLzXGz
​​
​
New Survey Publication – An Updated Bibliography of Michigan Geology
​
John Yellich and Peter Voice, Western Michigan University Department of Geological Sciences and Michigan Geological Survey

The Michigan Geological Survey is proud to announce a new publication: Michigan Geology: A Bibliography, the second volume in the Michigan Geological Survey Data Compilation Series. This updated compilation lists over 7,700 references from all known Michigan sources, including industry, professional associations and universities and includes publications from 1818 to present. This report documents 200 years of Geological Research in Michigan. The Bibliography is sorted into four general categories – Precambrian, Basin, Quaternary, and Other.
This updated version of the bibliography also includes a short section on Michigan Stratigraphic Nomenclature, as well as brief discussion of historical trends in publication frequency in Michigan.
​
The report is free to download at the Michigan Geological Survey's webpage: https://wmich.edu/geologysurvey/research/publications.
DOUGLAS HOUGHTON MEMORIAL
Douglass Houghton, Michigan's first State Geologist, was honored on September 10, 2016 by
the placement of a State of Michigan Historical Marker commemorating his accomplishments. The
effort was led by Arlene Anderson‐Vincent, members of the Michigan Basin Geological Society,
Keweenaw County Historical Society and faculty at Western Michigan University and Michigan
Technological University. The dedication was incorporated into a MBGS field excursion led by
Professor Ted Bornhorst of Michigan Technological University and Lawrence Molloy, President of the Keweenaw County Historical Society. The two led a field excursion that covered the geology and history of sites from Houghton to Copper Harbor and wove a tale of the rise and fall of mining in the copper range. The field excursion included the dedication of the marker, which is located in Eagle River, Michigan at the Keweenaw County Historical Museum. The dedication had many speakers and a special appearance from Kyle Bagnall, who portrayed Bela Hubbard who told the story of Douglass Houghton's 1840 expedition along Lake Superior. Douglass Houghton died in 1845 when the boat carrying himself and his crew capsized during a storm on Lake Superior near Eagle River.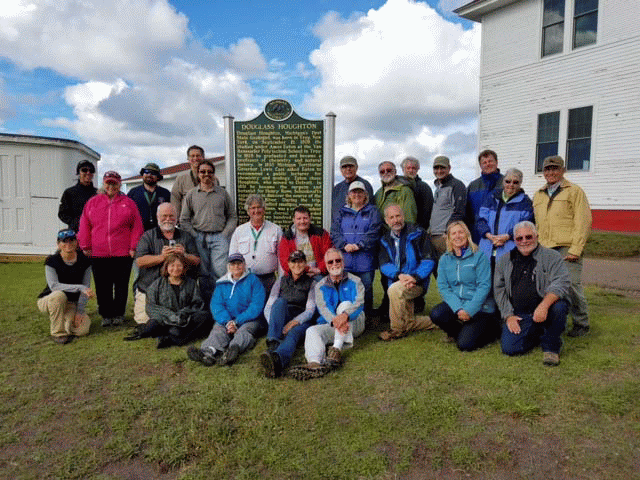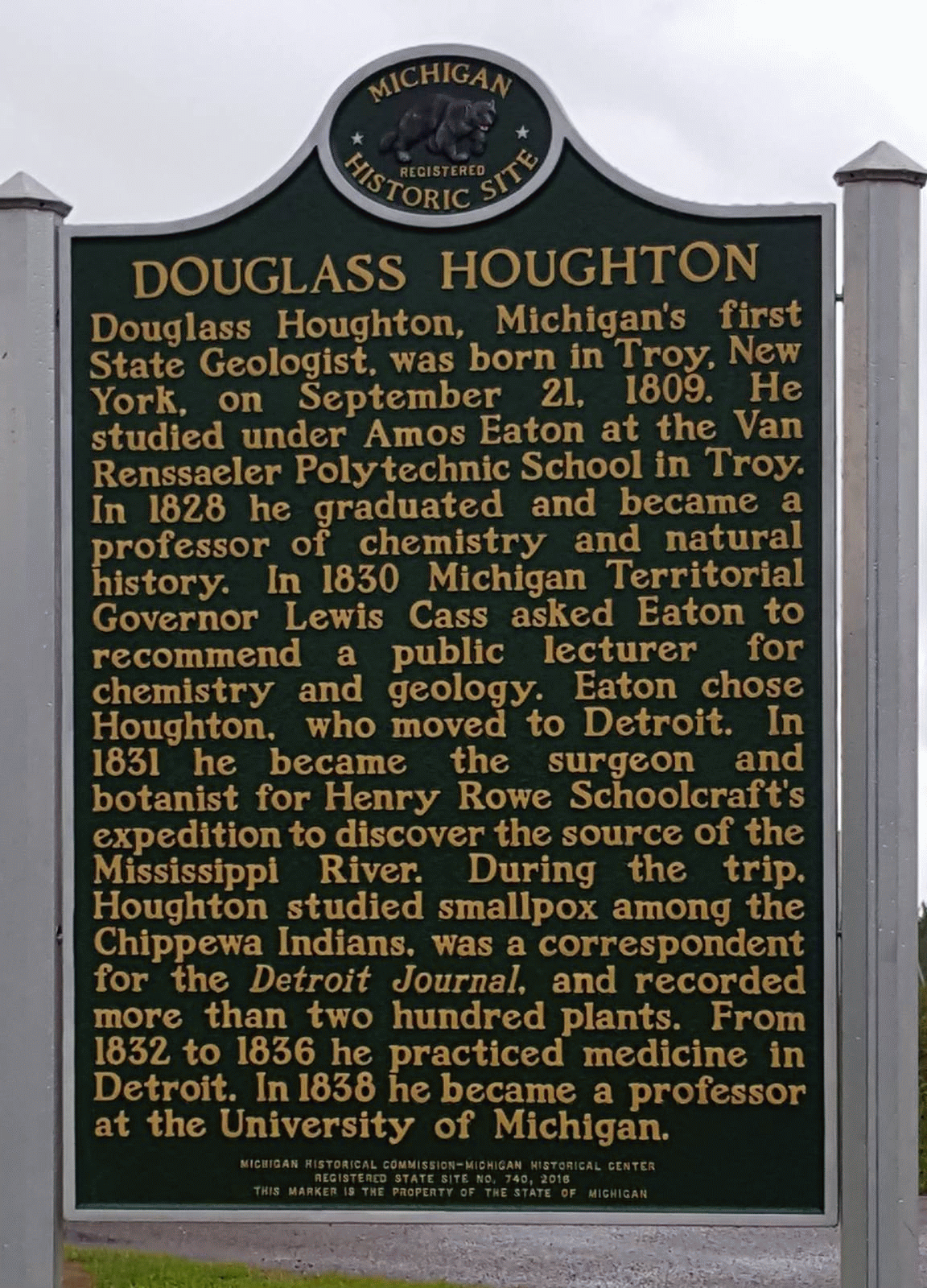 Michigan Basin Geological Society
​
The Michigan Basin Geological Society (MBGS) was founded in 1936 as an affiliated non-profit organization of the American Association of Petroleum Geologists (AAPG) to provide a forum for the exchange of ideas relating to the field of petroleum geology through field excursions and meetings.
​
Throughout the years, the role of the society has changed, and both meetings and field excursions now address a wide range of topics pertaining to the study of geology of Michigan and the great lakes area, and is open to anyone interested in geology.
​
MBGS has monthly meetings typically on the second Wednesday of each month from September through May. These meeting consist of a lecture on a wide variety of Michigan geology related topics. The meetings are open to all. The Executive Committee Officers meet prior to the meeting to discuss Society issues and is open to anyone interested in attending. The society has 1-3 geological field trips per year.
​
MBGS members are geologists, work in a geology related field, or are a geology student or hobbyist. The Society is dedicated to the advancement of the science of geology and related fields, disseminating knowledge of geology or related fields for the benefit of its members, and promoting the education of geology in Michigan. Annual dues are $35 per person and $10 per student.
October 9, 2022: MBGS Meeting

October 9-11, 2020: Detroit Gem, Mineral & Fossil Show, Macomb Community College Expo Center

October 9-15, 2022: Earth Science Week, Earth Science Week | (earthsciweek.org)
​
November 9, 2022: MBGS Meeting
​
November 5, 2022, JACKSON COUNTY HISTORIC COAL DISTRICT
FIELD TRIP LED BY DAVE WESTJOHN AND BENNY SEE,
Estimated Cost $50 RSVP christensenc@michigan.gov
​
December 5-7, 2022: Great Lakes PFAS Summit, virtual, 2022 Great Lakes PFAS Summit (michigan.gov)
​
December 14, 2022: MBGS Meeting
​
December 20, 2022: MBGS Scholarship Applications Due. Mail applications to John Yellich (john.a.yellich@wmich.edu)
and title email "RE: MBGS Scholarship Application. Applications are available on the website at www.mbgs.org
​
January 11, 2023: MBGS Meeting
​
February 8, 2023: MBGS Meeting
​
March 8, 2023: MBGS Meeting
​
April 12, 2023: MBGS Meeting
​
May 4-5th, 2023, GSA 2023 North-Central Section 57th Annual Meeting Grand Rapids, Michigan, USA, https://www.geosociety.org/GSA/Events/Section_Meetings/GSA/Sections/nc/2023mtg/home.aspx
​
May 10, 2022: MBGS Meeting- tentative
​
May 19-21, 2023, 58th Midwest Friends of the Pleistocene field conference :The Glacial and Geomorphic Evolution of the Houghton Lake Basin Roscommon, Mi.
​
EGLE Calendar of Training and Workshops
https://www.michigan.gov/egle/0,9429,7-135-3308_3333---,00.html
​
Michigan State University, College of Natural Science, Department of Earth and Environmental Science,
Events https://ees.natsci.msu.edu/events/

Michigan Tech – Geoseminars ‐ http://pages.mtu.edu/~raman/SilverI/Geoseminar/Welcome.html

University of Michigan Earth and Environmental Science
Events https://lsa.umich.edu/earth

Western Michigan University, Geological and Environmental Sciences
Events https://wmich.edu/geology/events
​