Michigan Basin Geological Society
​
​
Please join us for the first Michigan Basin Geological Society's membership meeting for the 2019-2020 year.
​
MBGS Membership Meeting, February 12th, 2020, 7:00 PM
Members are welcome to bring guests.
​
LOCATION: Michigan State University in the Natural Science Building, Room 204 288 Farm Lane, East Lansing, MI 48823
​
SPEAKER: Mark Worrall, Geologist, Michigan Department of the Environment Great Lakes and Energy, Remediation & Redevelopment Division, Grand Rapids District
​
TOPIC: "PFAS investigations in North Kent County Michigan, A Hydrogeological Investigation into Tannery Derived Waste"
​
Abstract:
In 1958 Wolverine World Wide started commercial use of Scotchgard™ with the introduction of
the Hush Puppy line of shoes. The shoes were waterproofed using Scotchgard™, which
generated Tannery wastes containing per- and polyfluoroalkyl substances (PFAS). The Tannery
wastes containing PFAS were disposed of in North Kent County at various sites from the late-
1950s through the 1980s. Investigation of the disposal areas was initiated in 2017 and led to a
twenty square mile study area with PFAS impacting hundreds of residential drinking water wells.

A number of issues have led to a challenging hydrogeologic investigation including PFAS' role as
an emerging contaminant and behavior in the environment, the geologic-geographical setting
of the waste disposal sites, and the complex geology found in the study area. Through a series
of conceptual site models that have been developed for the waste disposal areas, State
Regulators have begun the processes of identifying the PFAS contaminant distribution and gain
a better understanding of the risks associated with the groundwater aquifers in the North Kent
County study area.
​
Biography:
Mark Worrall is currently a district geologist for the Michigan Department of the Environment
Great Lakes and Energy, Remediation & Redevelopment Division, Grand Rapids District. Mark
has been in the environmental business for nearly twenty-five years as both a regulator and
consultant.

For the past two and a half years Mark's primary focus has been the Wolverine World Wide
(WWW) PFAS sites of North Kent County. This work has involved analyzing the data collected
by WWW's consultants and by the state to develop models of the PFAS behavior specific to the
impacted area and to communicate this information to the public to aid in their understanding.

When Mark is not working as a geologist he researches, writes and lectures on Michigan's
railroad, mining and industrial history. His family consists of his wife Tina, daughters Ellison
and Abigail and their crazy dog pumpkin.
New Survey Publication – An Updated Bibliography of Michigan Geology
​
John Yellich and Peter Voice, Western Michigan University Department of Geological Sciences and Michigan Geological Survey

The Michigan Geological Survey is proud to announce a new publication: Michigan Geology: A Bibliography, the second volume in the Michigan Geological Survey Data Compilation Series. This updated compilation lists over 7,700 references from all known Michigan sources, including industry, professional associations and universities and includes publications from 1818 to present. This report documents 200 years of Geological Research in Michigan. The Bibliography is sorted into four general categories – Precambrian, Basin, Quaternary, and Other.
This updated version of the bibliography also includes a short section on Michigan Stratigraphic Nomenclature, as well as brief discussion of historical trends in publication frequency in Michigan.
​
The report is free to download at the Michigan Geological Survey's webpage: https://wmich.edu/geologysurvey/research/publications.
DOUGLAS HOUGHTON MEMORIAL
Douglass Houghton, Michigan's first State Geologist, was honored on September 10, 2016 by
the placement of a State of Michigan Historical Marker commemorating his accomplishments. The
effort was led by Arlene Anderson‐Vincent, members of the Michigan Basin Geological Society,
Keweenaw County Historical Society and faculty at Western Michigan University and Michigan
Technological University. The dedication was incorporated into a MBGS field excursion led by
Professor Ted Bornhorst of Michigan Technological University and Lawrence Molloy, President of the Keweenaw County Historical Society. The two led a field excursion that covered the geology and history of sites from Houghton to Copper Harbor and wove a tale of the rise and fall of mining in the copper range. The field excursion included the dedication of the marker, which is located in Eagle River, Michigan at the Keweenaw County Historical Museum. The dedication had many speakers and a special appearance from Kyle Bagnall, who portrayed Bela Hubbard who told the story of Douglass Houghton's 1840 expedition along Lake Superior. Douglass Houghton died in 1845 when the boat carrying himself and his crew capsized during a storm on Lake Superior near Eagle River.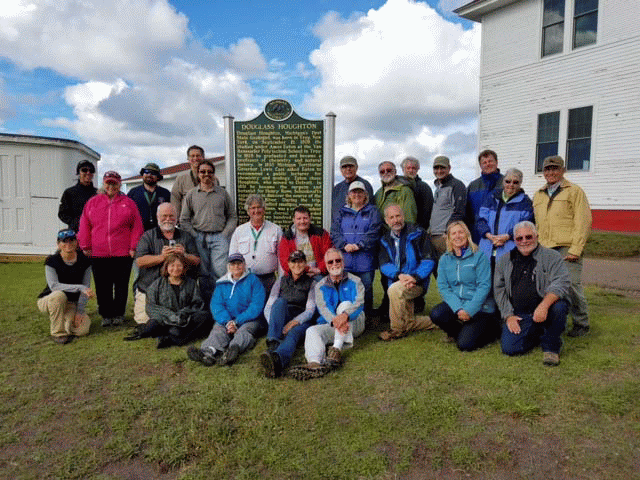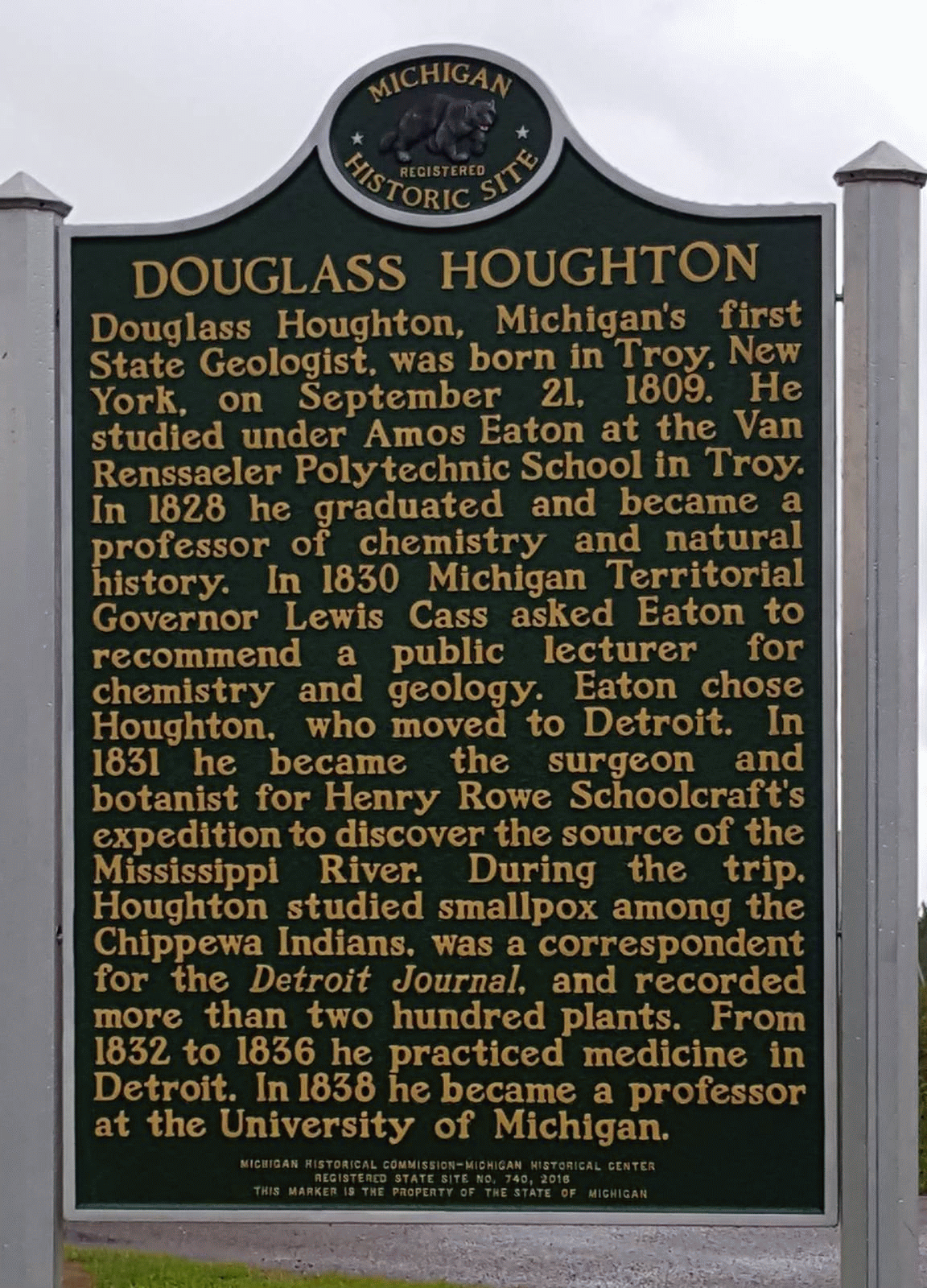 The Michigan Basin Geological Society (MBGS) was founded in 1936 as an affiliated non-profit organization of the American Association of Petroleum Geologists (AAPG) to provide a forum for the exchange of ideas relating to the field of petroleum geology through field excursions and meetings.
​
Throughout the years, the role of the society has changed, and both meetings and field excursions now address a wide range of topics pertaining to the study of geology of Michigan and the great lakes area, and is open to anyone interested in geology.
​
MBGS has monthly meetings typically on the second Wednesday of each month from September through May. These meeting consist of a lecture on a wide variety of Michigan geology related topics. The meetings are open to all. The Executive Committee Officers meet prior to the meeting to discuss Society issues and is open to anyone interested in attending. The society has 1-3 geological field trips per year.
​
MBGS members are geologists, work in a geology related field, or are a geology student or hobbyist. The Society is dedicated to the advancement of the science of geology and related fields, disseminating knowledge of geology or related fields for the benefit of its members, and promoting the education of geology in Michigan. Annual dues are $25 per person and $10 per student.
January 8th, 2020: Michigan Basin Geological Society membership meeting,

February 12th, 2020: Michigan Basin Geological Society membership meeting, Lansing,
​
March 5th, 2020: Society of Petroleum Engineers - Michigan Section dinner meeting, Shahid Azizul Hag, speaking on "Reservoir Engineering While Drilling In Horizontal Wells". Alibi of Troy, 6700 Rochester Road
Troy, MI 48085. Social Hour is 5-6 pm, dinner is from 6-7 pm, and presentation will follow dinner. Contact Zachary L Melcher for additional information.
​
March 12th, 2020: Michigan Basin Geological Society membership meeting, Lansing,

April 8th, 2020: Michigan Basin Geological Society membership meeting, Michigan Geological Repository for Research and Education (MGRRE) Kalamazoo,
​
May 13 -14th, 2020: 66th Annual Institute on Lake Superior Geology, Mountain Iron, Minnesota,


June 16-17th, 2020: AIPG Michigan Section Environmental Risk Management Workshop (10th Year Anniversary), Roscommon, Michigan at the Ralph A. MacMullen Conference Center,

EGLE Calendar of Training and Workshops
https://www.michigan.gov/egle/0,9429,7-135-3308_3333---,00.html
​
Michigan State University, College of Natural Science, Department of Earth and Environmental Science,
Events https://ees.natsci.msu.edu/events/

Michigan Tech – Geoseminars ‐

University of Michigan Earth and Environmental Science
Events

Western Michigan University, Geological and Environmental Sciences
Events
​