​
​
INTRODUCING THE 2021 - 2022 MBGS EXECUTIVE COMMITTEE MEMBERS
President – Chris Christensen, Michigan Dept. of Environment, Great Lakes and Energy

Vice President – Adedoyin S. Adeyiloa, Central Michigan University

Secretary – John Yellich, Michigan Geological Survey

Treasurer – Peter Rose Michigan Department of Natural Resources

Business Manager – Peter Rose, Michigan Department of Natural Resources

Past President – Jennifer Trout, Western Michigan University
​
​
​
Professional Membership Dues
MBGS has monthly meetings typically on the 2nd Wednesday
of each month from September - May
MBGS ANNOUNCES THE 2021-2022 EZ MANOS SCHOLARSHIP RECIPIENTS
MBGS is pleased to announce the 2022 EZ MANOS scholarship recipients. Madeleline Tan an Undergrad Student from the University of Michigan, who is working on "Seismic Receiver function analysis of the Michigan Basin" and Mathew Bell a Graduate Student from Western Michigan University who is working on "Dam Failure – Hydrogeologic Consequences and Effects on the Tittabawassee and Tobacco Rivers and the groundwater systems in Southern Gladwin County, Michigan". Abstracts from the winners are included in the newsletter. We look forward to hearing updates from the students on the projects at a future MBGS meeting. More information can be found on MBGS's Scholarship Page
​
MBGS MEMBERSHIP DUES – Deadline Extended to May 1, 2022
MBGS continues to strive to provide a platform for geologist and environmental professionals to connect and offer learning and field trip opportunities. For 2021-2022, our annual dues are $35. Student Membership is free. Email any one of our officers if you are a student and would like to be a member. We now offer the option to renew your professional membership via PayPal. Please refer to the renewal notices that are included in the newsletter. Student Membership is free
​
MBGS continues to strive to provide a platform for geologist and environmental professionals to connect and offer learning and field trip opportunities. For 2021-2022, our annual dues will increase to $35 for members. Student memberships are free, but they
need to fill out the Student Membership Registration Form (above). Renewal notices are included in the newsletter.
OTHER NEWS: MBGS HISTORICAL PUBLICATIONS ARE NOW AVAILABLE ON USB FLASH DRIVES (8GB).

MBGS Publications ‐ There are two (2) new publications available! See details on the Publications page
​
MBGS On-line Store - Shop for shirts, hats, bags and other items. Check it out at: http://www.cafepress.com/mbgs
Please join us for the first Michigan Basin Geological Society's membership meeting for the 2021-2022 year.
​
MBGS - AIPG Joint Dinner Membership Meeting, Thursday May 5th, 2022, 7:30 PM
​
​LOCATION: The Hidden Gem Event Venue, 4230 Charlar Drive, Delhi charter Township, MI 48842
​
SPEAKER: John Esch Geology Specialist, Michigan Department of Environment, Great Lakes, and Energy - Oil, Gas & Minerals Division
​
TOPIC: LiDAR for Environmental, Natural Resources, Hydrological, Engineering and Geological Applications
​
Cost: First 10 Students Free*, Members $40.00, Non-members $60.00. Registration is payable electronically via Eventbrite (see link below). Please note: Cancellations made within 48 hours of the meeting and/or "No Shows" will be charged and expected to pay the registration fee. *Only the first 10 students are free; those registering after the 10 spots are filled pay the member price.

Dinner: Choice of: Creamy Garlic Chicken, red skin potatoes, vegetable medley, salad, bread; Glazed Salmon, red skin potatoes, vegetable medley, salad, bread; or Vegetable Lasagna, red skin potatoes, vegetable medley, salad, bread

Time: Cash Bar 5:30-6:30 PM, Dinner 6:30 PM, and Speaker 7:30-9:00 PM

RSVP: On the Eventbrite website no later than May 2nd:
​
https://www.eventbrite.com/e/spring-2022-joint-aipg-mi-section-and-mbgs-meeting-tickets-314503637847
​
Abstract
LiDAR (Light Detection And Ranging) has fundamentally changed how we view and interpret the landscape and has revolutionized geological mapping. Often subtle features can be seen in the LiDAR topography data that are not visible on aerial photography, topographic maps, or digital elevation models (DEMs).
LiDAR is an optical remote sensing technology that emits intense, focused beams of Light at the ground and measures the time it takes for the reflections to be detected by a sensor. This results in a densely spaced (QL2): 2 points/meter network of highly accurate georeferenced elevation points called a point cloud. These elevation points are classified as to what the LiDAR pulse was reflected off (ground, vegetation, water, buildings, or other objects). The ground elevation points are used to produce highly accurate Digital Elevation Models that can be used to generate three-dimensional representations of the Earth's surface and its features. Elevation accuracies are on the order of 10 centimeters. Airborne LiDAR is the most common, but there is also terrestrial LiDAR and bathymetric LiDAR. Terrestrial LiDAR can be used for mapping high cliff and quarry faces to create a virtual outcrop.
The most useful airborne LiDAR product is the bare earth digital elevation model (DEM). Other common deliverable LiDAR products are a classified point clouds and intensity Images. A LiDAR attribute that may be of value for geologists is the intensity of the returned pulse, which is the strength of the return or how strongly the laser pulse was reflected back to the sensor. This is usually presented a greyscale .tif image and may be useful for mapping soft ground (wetlands) vs hard ground (potentially bedrock outcrops). Common LiDAR derivative products include DEM hillshade, digital surface models, shaded relief, contours, and automated building extraction.
The higher resolution topography advantage of 0.6 meter LiDAR DEMs over existing 30 and 10 meter DEMs is obvious. This very dense data coverage allows for seeing subtle geologic features, and cultural features like curbs, plow furrows, and two-tracks. It can also be used to see what is under tree canopy. Bedrock outcrops often appear distinct from the surrounding topography in the LiDAR data. This is valuable for mapping in remote areas with little known exposure. Hydrologic features like streams, valleys and subtle erosional features are more accurately and easily seen using LiDAR. Many more karst feature like sinkholes, disappearing streams, and solution enhanced joint areas have been identified using LiDAR. Subtle glacial features like ice-walled lake plains are almost never seen on aerial photos or topographic maps (except for large ones) and were rarely identified in Michigan prior to LiDAR. With LiDAR they are relatively easy to see. Other subtle glacial features seen using LiDAR, but sometimes too small to be seen on topographic maps include small eskers, drumlins, flutes, subtle terraces, fans, deltas, small sand dunes, paleo-shorelines, ice margins, bars, pendants, and erosional scarps. These previously undetected landforms may fundamentally change how one interprets the area geology. Pits and other excavations as well as scarps are easily seen using LiDAR and are helpful for places to investigate.
LiDAR allows geologists to be more efficient in the field by allowing them to see the landscape how it really is before going out in the field. It also helps in fine tuning and focusing field work in specific area, features and landforms. It also allows them to map subtle features that may not be accessible due to land ownership permissions. This presentation will show the widely varying uses of LiDAR for geological, environmental, and hydrological applications across Michigan.
​
Biography
John grew up in the Grand Ledge Michigan area and received his BS in geology from Central Michigan University in 1984. He started out his career in 1984 as a geologist with Aangstrom Precision Corporation. He led a geophysical survey crew conducting magnetic and radiometric surveys and later worked as a "computer geologist" mapping the structure and isopach maps of every Paleozoic formation in the Lower Peninsula of Michigan. John constructed the first ever comprehensive glacial drift isopach and bedrock topography maps of the Lower Peninsula of Michigan as well as assisting in mapping the major faults in the Michigan Basin.
In 1990, John left the oil patch and took a job with the DNR (later EGLE) conducting hydrogeologic investigations at contamination sites across the state. From 1998-2006 he worked as project geologist on 12 Superfund sites in Michigan. Since 2006 he has been with the Office of Geological Survey/Oil, Gas & Minerals Division.
John's interests include studying the bedrock surface and structural geology of the Michigan Basin, use of unconventional geophysical techniques, the HVSR passive seismic method, LiDAR, groundwater surface water interactions, and the use of GIS and 3D visualization techniques to help
understand surficial and subsurface geology. He formerly chaired the EGLE GIS Committee. John also works part time conducting geologic mapping for the Michigan Geological Survey. He is a volunteer with Lifewater International in which he trains people overseas in groundwater exploration, shallow well drilling and hand pump repair.
​
​
​
Below are links to recordings of the past (3) MBGS meetings
​
A 3-D Bedrock Geologic and Hydrostratigraphic Model of Southern Ontario
Date: April 13th, 2022
Meeting Recording:
https://us06web.zoom.us/rec/share/NSxlqWFWWpT3pJL9CRiKnhj7PXfyCr76VpIvMo8-bSNcGdS9M4E67BBP4BQGIN1m.jGh9-MLDuhx-Wu82
​
Below are the 2 original presentations that Terry presented:
A Revised 3-D Geologic Model of the Bedrock of Southern Ontario and Progress on Development of a 3-D Hydrostratigraphic Model
https://www.youtube.com/watch?v=H0VZLNMxpKU&list=PLdapv5BeduhV3JoX6F4giIHGRgYI6Bkag&index=2
​
A 3-D Bedrock Hydrostratigraphic Model of Southern Ontario
https://www.youtube.com/watch?v=GgJmOHYZtak&list=PLdapv5BeduhXJZedclmAYiccOCcSuYsMW&index=20
​
Articles referenced in the presentation:
​
A Hydrostratigraphic Framework for the Paleozoic Bedrock of Southern Ontario
https://journals.lib.unb.ca/index.php/GC/article/view/31465/1882527052
​
A Three-Dimensional Geological Model of the Paleozoic Bedrock of Southern Ontario, Groundwater Resources Study 19 Geological Survey of Canada, Open File 8618
http://www.geologyontario.mndm.gov.on.ca/mndmfiles/pub/data/imaging/GRS019//GRS019_Report.pdf
​
Lake Michigan Shorelines, Catastrophic Failure or Stable, That is the Question, Date: Jan 12, 2022
Meeting Recording:
https://us06web.zoom.us/rec/share/-Gr3efOHXLqk_SSFJqsMG9VpAk8sbQc9WWZDroawji1DYfjnD84IfzTSsc3XYh78.zXGywtGcpy1j0c_B

Grand Canyon MBGS Field Excursions, Date: Feb 9, 2022
Meeting Recording:
https://us06web.zoom.us/rec/share/tsuSxIgrJHVChOxJ_DNG93ORQWEHYy3QWyydUky3SNrZ350kolgUBVX1Ms_7ZWA2.-Lk0MwdVkDxLzXGz
​​
​
New Survey Publication – An Updated Bibliography of Michigan Geology
​
John Yellich and Peter Voice, Western Michigan University Department of Geological Sciences and Michigan Geological Survey

The Michigan Geological Survey is proud to announce a new publication: Michigan Geology: A Bibliography, the second volume in the Michigan Geological Survey Data Compilation Series. This updated compilation lists over 7,700 references from all known Michigan sources, including industry, professional associations and universities and includes publications from 1818 to present. This report documents 200 years of Geological Research in Michigan. The Bibliography is sorted into four general categories – Precambrian, Basin, Quaternary, and Other.
This updated version of the bibliography also includes a short section on Michigan Stratigraphic Nomenclature, as well as brief discussion of historical trends in publication frequency in Michigan.
​
The report is free to download at the Michigan Geological Survey's webpage: https://wmich.edu/geologysurvey/research/publications.
DOUGLAS HOUGHTON MEMORIAL
Douglass Houghton, Michigan's first State Geologist, was honored on September 10, 2016 by
the placement of a State of Michigan Historical Marker commemorating his accomplishments. The
effort was led by Arlene Anderson‐Vincent, members of the Michigan Basin Geological Society,
Keweenaw County Historical Society and faculty at Western Michigan University and Michigan
Technological University. The dedication was incorporated into a MBGS field excursion led by
Professor Ted Bornhorst of Michigan Technological University and Lawrence Molloy, President of the Keweenaw County Historical Society. The two led a field excursion that covered the geology and history of sites from Houghton to Copper Harbor and wove a tale of the rise and fall of mining in the copper range. The field excursion included the dedication of the marker, which is located in Eagle River, Michigan at the Keweenaw County Historical Museum. The dedication had many speakers and a special appearance from Kyle Bagnall, who portrayed Bela Hubbard who told the story of Douglass Houghton's 1840 expedition along Lake Superior. Douglass Houghton died in 1845 when the boat carrying himself and his crew capsized during a storm on Lake Superior near Eagle River.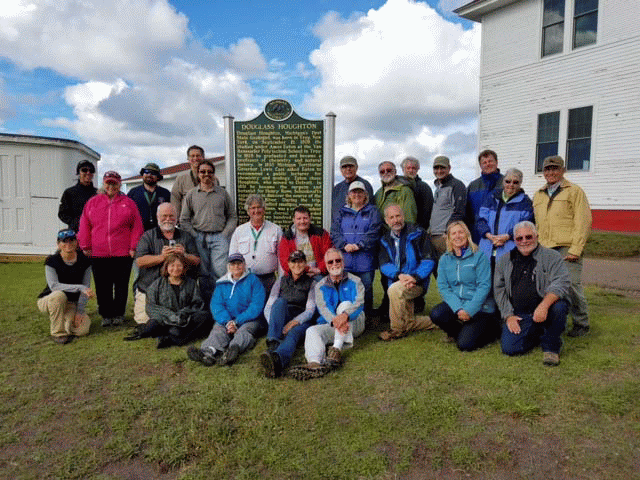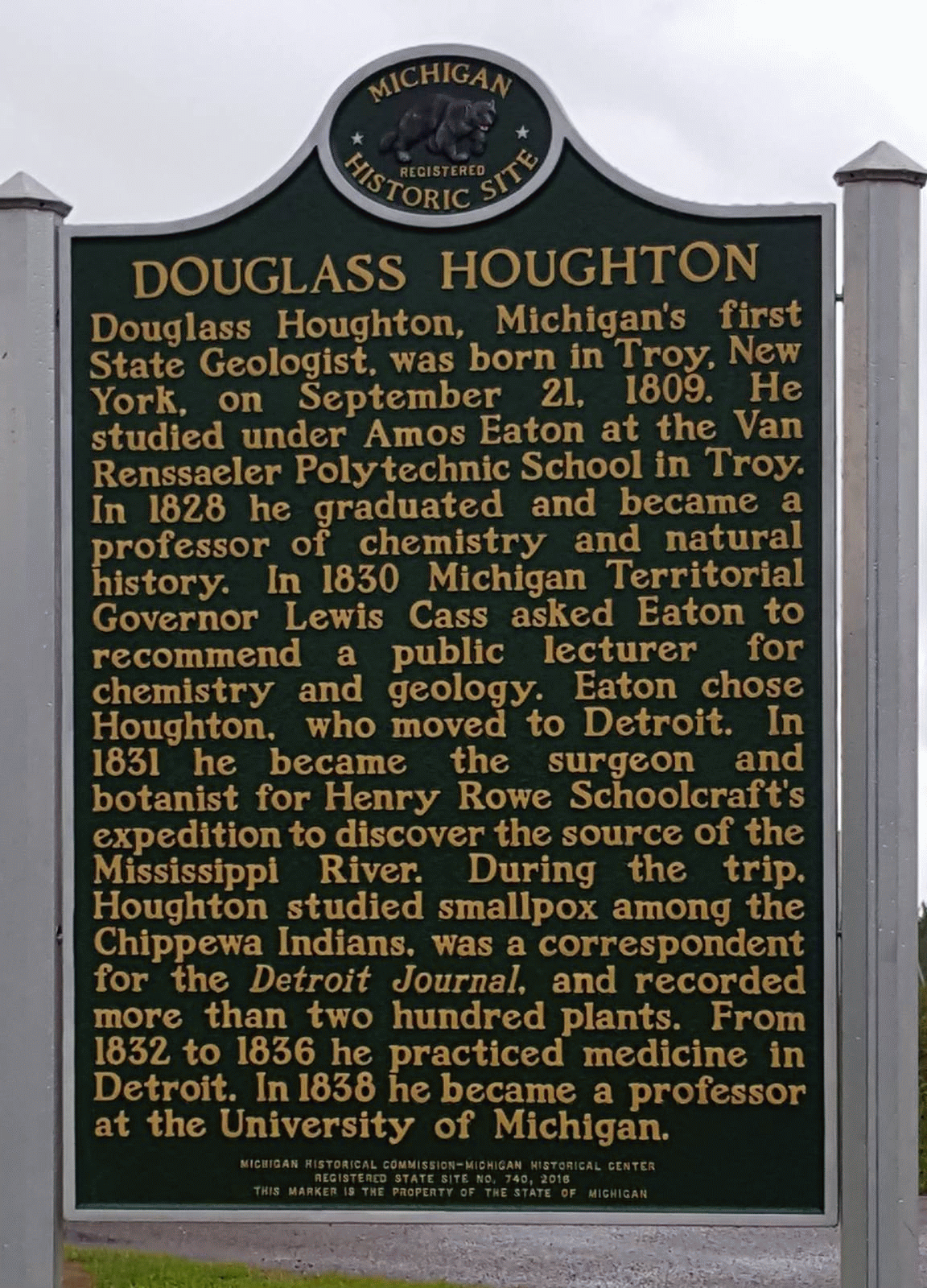 Michigan Basin Geological Society
​
The Michigan Basin Geological Society (MBGS) was founded in 1936 as an affiliated non-profit organization of the American Association of Petroleum Geologists (AAPG) to provide a forum for the exchange of ideas relating to the field of petroleum geology through field excursions and meetings.
​
Throughout the years, the role of the society has changed, and both meetings and field excursions now address a wide range of topics pertaining to the study of geology of Michigan and the great lakes area, and is open to anyone interested in geology.
​
MBGS has monthly meetings typically on the second Wednesday of each month from September through May. These meeting consist of a lecture on a wide variety of Michigan geology related topics. The meetings are open to all. The Executive Committee Officers meet prior to the meeting to discuss Society issues and is open to anyone interested in attending. The society has 1-3 geological field trips per year.
​
MBGS members are geologists, work in a geology related field, or are a geology student or hobbyist. The Society is dedicated to the advancement of the science of geology and related fields, disseminating knowledge of geology or related fields for the benefit of its members, and promoting the education of geology in Michigan. Annual dues are $35 per person and $10 per student.
May 5, 2022: Michigan Basin Geological Society & AIPG Joint Meeting - LiDAR for Environmental, Natural Resources, Hydrological, Engineering and Geological Applications. In person meeting.
​
May 10-11th, 2022: 68th Annual Institute on Lake Superior Geology Annual Meeting, Sudbury, ON, ILSG - Terrace Bay 2019 (lakesuperiorgeology.org)
​
June 14-15, 2022: Environmental Risk Management Workshop at the Ralph A. MacMullan Conference Center, Roscommon, Michigan.
​
June 20-23: NRCS Annual Regional Meeting of the National Cooperative Soil Survey, in Grand Rapids,
https://www.nrcs.usda.gov/wps/portal/nrcs/detail/soils/survey/partnership/ncss/?cid=nrcseprd1881042
​
August 6-9, 2022: 58th Annual AIPG Meeting to be held in Marquette, Michigan.
​
EGLE Calendar of Training and Workshops
https://www.michigan.gov/egle/0,9429,7-135-3308_3333---,00.html
​
Michigan State University, College of Natural Science, Department of Earth and Environmental Science,
Events https://ees.natsci.msu.edu/events/

Michigan Tech – Geoseminars ‐ http://pages.mtu.edu/~raman/SilverI/Geoseminar/Welcome.html

University of Michigan Earth and Environmental Science
Events https://lsa.umich.edu/earth

Western Michigan University, Geological and Environmental Sciences
Events https://wmich.edu/geology/events
​