Michigan Basin Geological Society
​
​
Please join us for the first Michigan Basin Geological Society's membership meeting for the 2019-2020 year.
​
MBGS Membership Meeting, Tuesday March 10th, 2020, 7:00 PM
Members are welcome to bring guests.
​
LOCATION: Michigan State University in the Natural Science Building, Room 204 288 Farm Lane, East Lansing, MI 48823
​
SPEAKER: Stacy Metz and Graham Crockford, TRC, Ann Arbor, Michigan
​
TOPIC: "Evaluation of the Vapor Intrusion Pathway at a Non-Residential Facility using VaporSafeTM Continuous Air Monitoring results in a Sustainable Solution"
Background/Objectives. TRC has been assisting with site investigation and cleanup at a USEPA Region V RCRA Corrective Action Site. Corrective Action for the Site, as outlined in the Final Decision, is largely complete. However, new remediation goals were established for the Site in 2016 after USEPA published revised trichloroethene (TCE) toxicity values. Because of the new remediation goals, a passive sub-slab ventilation (SSV)
system was installed and short-term indoor air monitoring was completed to demonstrate system effectiveness. Despite favorable indoor air sampling results, USEPA was hesitant lift the occupancy restrictions which would return the 225,000 square foot building to full industrial use. This position was justified by citing historic data variability and the possibility that there may be exceedences of the indoor air criteria for TCE between quarterly
sampling events since recent risk assessment guidance raises concerns with short-term TCE exposures during pregnancy.
​
Biography:
​
Stacy Metz, PE, TRC, Project Manager/Environmental Engineer. smetz@trccompanies.com.
Stacy graduated from Alma College with a Bachelor of Science degree in Environmental Science in 2001. Following Alma College, Stacy worked as a wet chemist in an environmental testing laboratory before attending the University of Wisconsin-Madison where she obtained a Master of Engineering degree in Geological Engineering in 2007. Her graduate research was focused on the in situ treatment of arsenic contaminated groundwater. Stacy has worked as an environmental consultant at TRC since 2007, specializing in environmental characterization and remediation of commercial, landfill and industrial properties. Stacy coleads TRC's CORE vapor intrusion team. Her work includes environmental site assessments; development of project plans and specifications; project coordination; implementation of field investigation, monitoring, and remediation activities; risk assessment; report writing; and project permitting. Recently, much of Stacy's work
has supported efforts to characterize and mitigate vapor intrusion concerns near historic industrial facilities where chlorinated solvents were released and at the associated downgradient residential and non-residential properties. These efforts include the calculation of site-specific cleanup levels, mitigation system design, and oversight of performance monitoring.

Graham Crockford, CPG, TRC, ECR Practice Lead. gcrockford@trccompanies.com.
Graham has over 30 years of experience in the fields of consulting, environmental engineering, geology, and hydrogeology. He currently serves as TRC's Office Practice Leader for the Michigan offices, and leads TRC's CORE vapor intrusion and sustainable remediation workgroups, and a member of TRC's PFAS CORE team. He also
serves as a Principal Consultant/Program Manager for TRC's solid waste, utility, and manufacturing/industrial clients, and is a program manager for TRC's Coal Combustion Residual (CCR) program. He also has decades of contaminant investigation and remediation experienced focused recalcitrant solvent contamination, and metals. Graham also provides litigation support services including expert and fact witness. Graham has served on several technical committees providing advocacy and industry perspective during development of solid waste rules in response to RCRA Subtitle D. His education includes a B.S. in Geology from Grand Valley State University and M.S. coursework in geology/hydrogeology at Wayne State University.
New Survey Publication – An Updated Bibliography of Michigan Geology
​
John Yellich and Peter Voice, Western Michigan University Department of Geological Sciences and Michigan Geological Survey

The Michigan Geological Survey is proud to announce a new publication: Michigan Geology: A Bibliography, the second volume in the Michigan Geological Survey Data Compilation Series. This updated compilation lists over 7,700 references from all known Michigan sources, including industry, professional associations and universities and includes publications from 1818 to present. This report documents 200 years of Geological Research in Michigan. The Bibliography is sorted into four general categories – Precambrian, Basin, Quaternary, and Other.
This updated version of the bibliography also includes a short section on Michigan Stratigraphic Nomenclature, as well as brief discussion of historical trends in publication frequency in Michigan.
​
The report is free to download at the Michigan Geological Survey's webpage: https://wmich.edu/geologysurvey/research/publications.
DOUGLAS HOUGHTON MEMORIAL
Douglass Houghton, Michigan's first State Geologist, was honored on September 10, 2016 by
the placement of a State of Michigan Historical Marker commemorating his accomplishments. The
effort was led by Arlene Anderson‐Vincent, members of the Michigan Basin Geological Society,
Keweenaw County Historical Society and faculty at Western Michigan University and Michigan
Technological University. The dedication was incorporated into a MBGS field excursion led by
Professor Ted Bornhorst of Michigan Technological University and Lawrence Molloy, President of the Keweenaw County Historical Society. The two led a field excursion that covered the geology and history of sites from Houghton to Copper Harbor and wove a tale of the rise and fall of mining in the copper range. The field excursion included the dedication of the marker, which is located in Eagle River, Michigan at the Keweenaw County Historical Museum. The dedication had many speakers and a special appearance from Kyle Bagnall, who portrayed Bela Hubbard who told the story of Douglass Houghton's 1840 expedition along Lake Superior. Douglass Houghton died in 1845 when the boat carrying himself and his crew capsized during a storm on Lake Superior near Eagle River.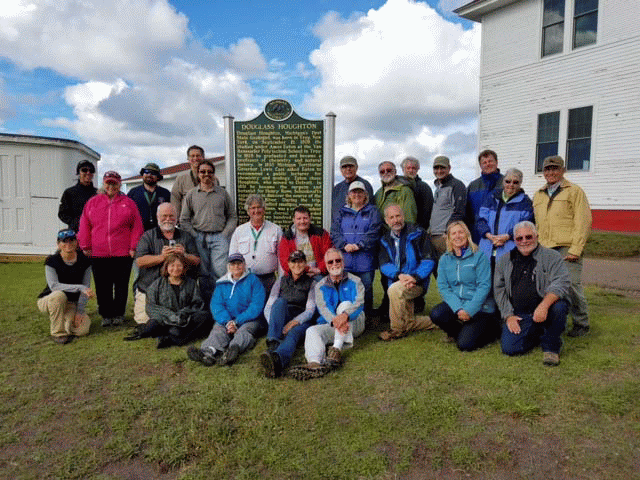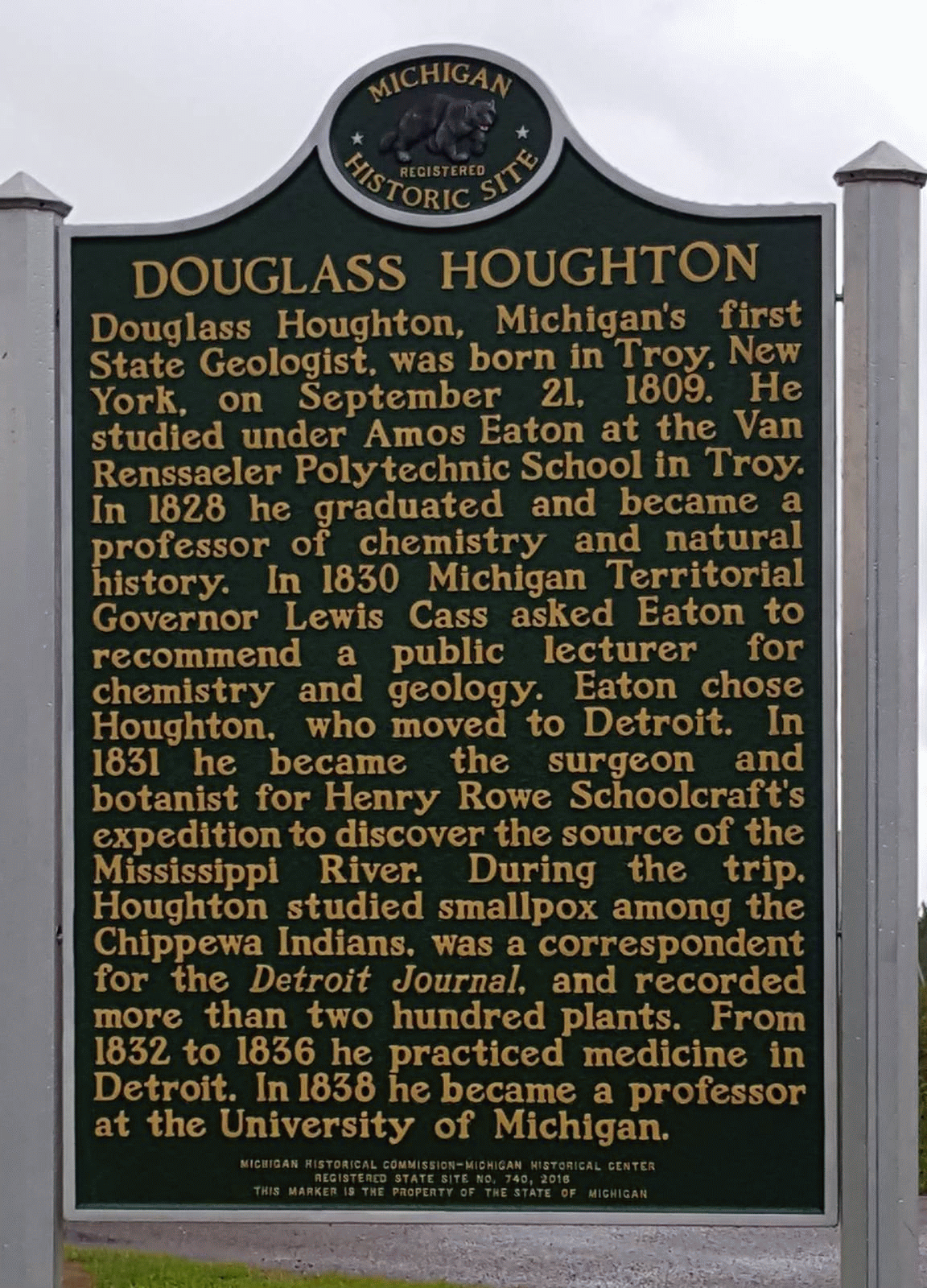 The Michigan Basin Geological Society (MBGS) was founded in 1936 as an affiliated non-profit organization of the American Association of Petroleum Geologists (AAPG) to provide a forum for the exchange of ideas relating to the field of petroleum geology through field excursions and meetings.
​
Throughout the years, the role of the society has changed, and both meetings and field excursions now address a wide range of topics pertaining to the study of geology of Michigan and the great lakes area, and is open to anyone interested in geology.
​
MBGS has monthly meetings typically on the second Wednesday of each month from September through May. These meeting consist of a lecture on a wide variety of Michigan geology related topics. The meetings are open to all. The Executive Committee Officers meet prior to the meeting to discuss Society issues and is open to anyone interested in attending. The society has 1-3 geological field trips per year.
​
MBGS members are geologists, work in a geology related field, or are a geology student or hobbyist. The Society is dedicated to the advancement of the science of geology and related fields, disseminating knowledge of geology or related fields for the benefit of its members, and promoting the education of geology in Michigan. Annual dues are $25 per person and $10 per student.
March 12th, 2020: Michigan Basin Geological Society membership meeting, Lansing,

April 8th, 2020: Michigan Basin Geological Society Annual BBQ meeting. Dr. Katherine "Kata" McCarville, professor of Geology and Paleontology, Upper Iowa University, will be presenting on the Grand Canyon,
rafting the Colorado River, Lee's Ferry to Whitmore Wash". The meeting will be held at Western Michigan University, Michigan Geological Repository for Research and Education (MGRRE) Kalamazoo,,
​
May 13 -14th, 2020: 66th Annual Institute on Lake Superior Geology, Mountain Iron, Minnesota,


June 16-17th, 2020: AIPG Michigan Section Environmental Risk Management Workshop (10th Year Anniversary), Roscommon, Michigan at the Ralph A. MacMullen Conference Center,

EGLE Calendar of Training and Workshops
https://www.michigan.gov/egle/0,9429,7-135-3308_3333---,00.html
​
Michigan State University, College of Natural Science, Department of Earth and Environmental Science,
Events https://ees.natsci.msu.edu/events/

Michigan Tech – Geoseminars ‐

University of Michigan Earth and Environmental Science
Events

Western Michigan University, Geological and Environmental Sciences
Events
​