Michigan Basin Geological Society
​
​
Please join us for the first Michigan Basin Geological Society's membership meeting for the 2020-2021 year.
​
MBGS Membership Meeting, Wednesday October 15th, 2020, 7:00 PM
​
LOCATION: Zoom Meeting (See details below)
​
SPEAKER: Chris Christensen, Hydrogeologist, Michigan Dept. of Environment, Great Lakes and Energy, Remediation and Redevelopment Div., Grand Rapids District Office
​
TOPIC: "A case for evaluating lead exposure risk using Incremental Sampling"
​
Case Study: Shallow soil sampling as a result of aerial lead deposition.
​
Sixty (60) years of lead aerial deposition from a historical brass foundry onto fifty –nine (59) downwind residential lots created a tricky evaluation for the liable party, consultant and the Michigan Department of Environmental Quality (MDEQ). Initial screening of the soil with over 375 X-ray Fluorescence (XRF) samples indicated high degree of lead heterogeneity at the sub-1 foot level. The MDEQ teamed with the liable party and consultant to use the Data Quality Objective (DQO) protocol along with Incremental Sampling (IS) methodology to provide a reliable, representative and reproducible evaluation of the residential direct contact risk that resulted in a residential No Further Action (NFA) for all the properties.
​
Biography:
​
Chris Christensen, Hydrogeologist, Michigan Dept. of Environment, Great Lakes and Energy, Remediation and Redevelopment Div., Grand Rapids District Office, christensenc@michigan.gov
​
Chris Christensen is an Environmental Hydrogeologist with the Michigan Department of Environment, Great Lakes and Energy (EGLE), Remediation and Redevelopment Division (RRD), in Grand Rapids since 1992. Chris works on both Leaking Underground Storage Tank sites as well as chlorinated solvent and surficial soil contamination sites. He is on RRD Technical Teams related to Incremental Sampling, Non Aqueous Phase Liquids, Risk-based Corrective Action and Groundwater Modeling. Chris has a BS in Geology from Michigan State University and a MS in Hydrogeology from Western Michigan University.
​
Join Zoom Meeting:
https://zoom.us/j/95927911157?pwd=QXV4QXUyZzNqWjlHZmdHdW5Tdm5GZz09
​
Meeting ID: 959 2791 1157 Passcode: Y0Jciw
​
Passing of Dr. Paul A. Catacosinos
Dr. Paul A. Catacosinos passed away on April 10 of this year at age 86. Paul was a significant contributor to our understanding of Michigan geology through his work during the 1970's through 1990's. Paul was a dynamic educator and researcher that impacted a generation of students and many of us who are interested in Michigan Geology.
Paul did his Ph.D work under Dr. James H. Fisher at Michigan State and completed the dissertation in 1972 on the Cambrian Stratigraphy of the Lower Peninsula of Michigan. Paul taught at Delta College for 26 years, inspiring students about geology.
He also contributed his energy and enthusiasm to help the Michigan Basin Geological Society, serving as Newsletter Editor (1972-74), Vice President (1977-78) and President (1978-79).
Paul was honored by the Eastern Section of AAPG with the Distinguished Service Award (1989) and Honorary Membership (1991). He also served ESAAPG as an officer, Treasurer (1985). Secretary (1986) and President(1987)
His professional/technical contributions which we often still use today include:
"Cambrian Lithostratigraphy of the Michigan Basin", 1973, AAPG Bulletin
​
"Origin and Stratigraphic Assessment of Pre-Mt. Simon Clastics (PreCambrian) of Michigan Basin", 1981, AAPG Bulletin
​
Co-editor (with Paul Daniels) of the book "Early Sedimentary Evolution of the Michigan Basin", 1991, GSA Special Paper 256 containing 11 peer reviewed papers on Michigan basin geology
"Stratigraphy of Middle Proterozoic to Middle Ordovician Formations of the Michigan Basin", 1991 a paper in GSA Special Paper 256
​
Co-editor (with Ben van der Pluijm) of the book "Basement and Basins of Eastern North America", 1996, GSA Special Paper 308 containing 14 peer reviewed papers
Lead author with 4 co-authors of "Stratigraphic Lexicon for Michigan" and Stratigraphic Nomenclature Chart for Michigan", 2001, published by the Michigan Geological Survey and the Michigan Basin Geological Society
There is a brief obituary on the legacy. com site at
https://www.legacy.com/obituaries/abqjournal/obituary.aspx?pid=195950313
Paul's lasting contributions to the understanding of Geology in the Michigan Basin are notable.
New Survey Publication – An Updated Bibliography of Michigan Geology
​
John Yellich and Peter Voice, Western Michigan University Department of Geological Sciences and Michigan Geological Survey

The Michigan Geological Survey is proud to announce a new publication: Michigan Geology: A Bibliography, the second volume in the Michigan Geological Survey Data Compilation Series. This updated compilation lists over 7,700 references from all known Michigan sources, including industry, professional associations and universities and includes publications from 1818 to present. This report documents 200 years of Geological Research in Michigan. The Bibliography is sorted into four general categories – Precambrian, Basin, Quaternary, and Other.
This updated version of the bibliography also includes a short section on Michigan Stratigraphic Nomenclature, as well as brief discussion of historical trends in publication frequency in Michigan.
​
The report is free to download at the Michigan Geological Survey's webpage: https://wmich.edu/geologysurvey/research/publications.
DOUGLAS HOUGHTON MEMORIAL
Douglass Houghton, Michigan's first State Geologist, was honored on September 10, 2016 by
the placement of a State of Michigan Historical Marker commemorating his accomplishments. The
effort was led by Arlene Anderson‐Vincent, members of the Michigan Basin Geological Society,
Keweenaw County Historical Society and faculty at Western Michigan University and Michigan
Technological University. The dedication was incorporated into a MBGS field excursion led by
Professor Ted Bornhorst of Michigan Technological University and Lawrence Molloy, President of the Keweenaw County Historical Society. The two led a field excursion that covered the geology and history of sites from Houghton to Copper Harbor and wove a tale of the rise and fall of mining in the copper range. The field excursion included the dedication of the marker, which is located in Eagle River, Michigan at the Keweenaw County Historical Museum. The dedication had many speakers and a special appearance from Kyle Bagnall, who portrayed Bela Hubbard who told the story of Douglass Houghton's 1840 expedition along Lake Superior. Douglass Houghton died in 1845 when the boat carrying himself and his crew capsized during a storm on Lake Superior near Eagle River.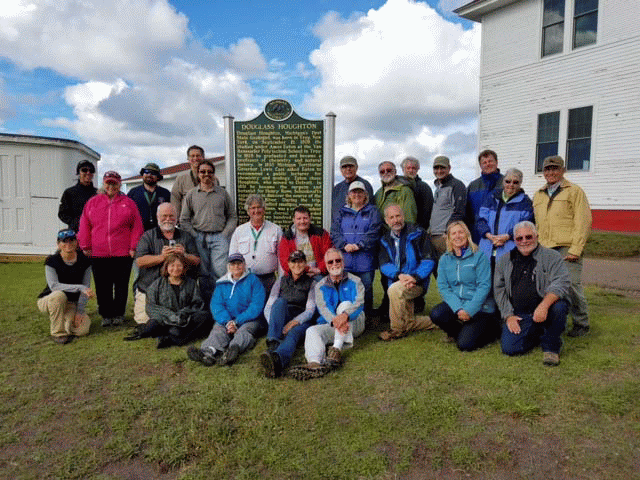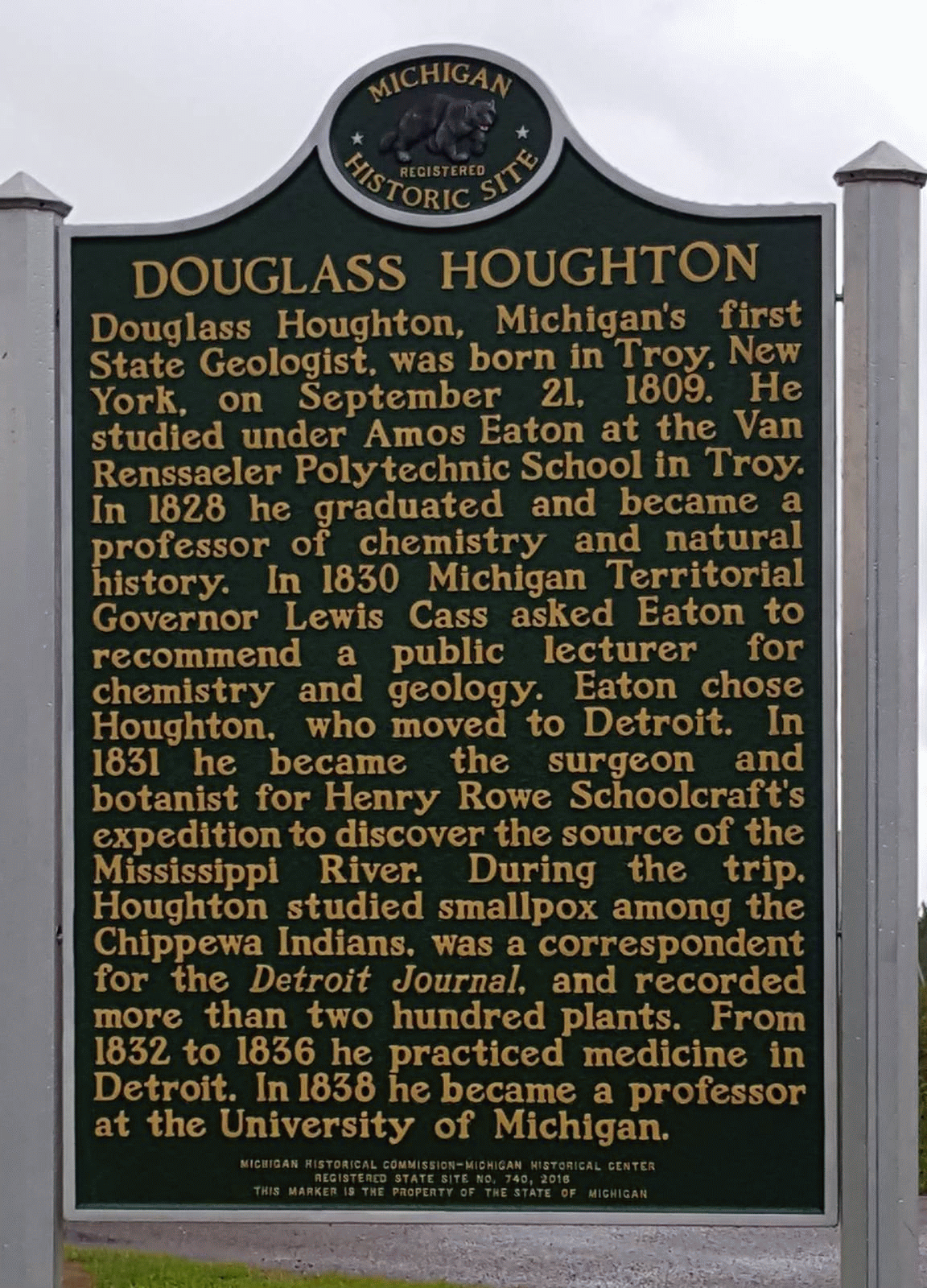 The Michigan Basin Geological Society (MBGS) was founded in 1936 as an affiliated non-profit organization of the American Association of Petroleum Geologists (AAPG) to provide a forum for the exchange of ideas relating to the field of petroleum geology through field excursions and meetings.
​
Throughout the years, the role of the society has changed, and both meetings and field excursions now address a wide range of topics pertaining to the study of geology of Michigan and the great lakes area, and is open to anyone interested in geology.
​
MBGS has monthly meetings typically on the second Wednesday of each month from September through May. These meeting consist of a lecture on a wide variety of Michigan geology related topics. The meetings are open to all. The Executive Committee Officers meet prior to the meeting to discuss Society issues and is open to anyone interested in attending. The society has 1-3 geological field trips per year.
​
MBGS members are geologists, work in a geology related field, or are a geology student or hobbyist. The Society is dedicated to the advancement of the science of geology and related fields, disseminating knowledge of geology or related fields for the benefit of its members, and promoting the education of geology in Michigan. Annual dues are $25 per person and $10 per student.
October 15, 2020: Michigan Basin Geological Society Membership Meeting: Chris Christensen, EGLE presenting: A case for evaluating lead exposure risk using Incremental Sampling. This will be a Zoom Meeting
​
October 14, 2020: AIPG-MAEP Joint Meeting
​
November 11, 2020: Michigan Basin Geological Society Membership Meeting: This will be a Zoom Meeting.
​
December 9, 2020: Michigan Basin Geological Society Membership Meeting: This will be a Zoom Meeting.

EGLE Calendar of Training and Workshops
https://www.michigan.gov/egle/0,9429,7-135-3308_3333---,00.html
​
Michigan State University, College of Natural Science, Department of Earth and Environmental Science,
Events https://ees.natsci.msu.edu/events/

Michigan Tech – Geoseminars ‐

University of Michigan Earth and Environmental Science
Events

Western Michigan University, Geological and Environmental Sciences
Events
​